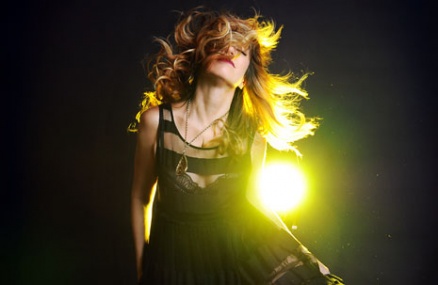 It's been a busy summer for Jersey-born, Brooklyn-based Nicole Atkins: She's played shows with people like Regina Spektor and Rufus Wainwright, and just wrapped a stint opening for the Black Keys. She has a track When the Levee Breaks (featuring Bonerama), on the benefit album Dear New Orleans.* She's been Twittering.**
And now she's turning her attention to the ramp-up of the release of her new record, Mondo Amore (out January 25 on Razor & Tie), which she calls "the record I've wanted to make since I was 12," specifying the subgenre as "psychedelic crooner rock!"
Not that she's fully ditching the sound that made us swear our undying love to her—dark, bombastic pop that's a little Roy Orbison but with a lot of 1960s girl-group bittersweetness (let's put it this way: Lesley Gore's version of You Don't Own Me sounds custom built for Atkins in every way). But there's definitely an evolution going on here.
Hear for yourself: On Monday, she opens for Jakob Dylan on his last of three nights at City Winery (tickets here). Also, get yourself a free preview of Vultures, off the new disc:
What I'm listening to: Devil's Calling - Elizabeth And The Catapult
*You should get the Dear New Orleans album for several reasons. 1) It benefits the rebuilding of New Orleans, which, five years later, is still suffering. 2) Some of the artists on here: My Morning Jacket, OK GO, Vijay Ayer, Steve Earle, Alison Moorer, Jill Sobule… and so on. 3) It's got 34 tracks on it and costs $12, meaning you're paying 35 cents a song. You can stream the whole thing or just buy it at dearneworleansmusic.org.
**Also, she maintains one of the more enjoyable Twitter feeds in the musicverse. Recent excerpt: "Old lady, purple sweatsuit, swingin' a golf club on the sidewalk. Goodbye LA."