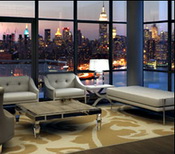 Holy mother of all crap. Now that we've got that out of the way, we're not sure what is causing more gastrointestinal distress: the verbiage in this Two Northside Piers sponsored ad or the thought that some poor person at Urban Daddy had to spew this write this copy:
It happens almost over night. Friends move to Williamsburg, they get hipper. Their tastes improve. They start talking about hot new bands. Suddenly they've got a lot of interesting thoughts on denim. The problem is, you always tell yourself, they gave up Manhattan. And more important: the Manhattan lifestyle. But all that changes with Two Northside Piers.
And it goes on:
Two Northside Piers is the second jaw-dropping condominium tower to be built at the new Williamsburg waterfront community, Northside Piers. The first one, which began welcoming residents earlier this year, is a big and bad 180-unit structure. This one is even bigger and badder, with 30 stories and 270 homes, from studios to three-bedroom penthouses. And now it's opening things up, sales-wise...And with Williamsburg's hipness quotient rising inexorably higher, the resale value on one of these properties should be fairly easy on your pocket. Or at least that's what our friend in Williamsburg told us.
Also, the men grow very tall. Regardless, it is very, very, very important to have a "friend" in Williamsburg advising on price trends, especially the dude writing the Burg Guide to Denim.
· On the Waterfront [Go Daddy]For more stories from Curbed, go to curbed.com.
Copyright CURBD