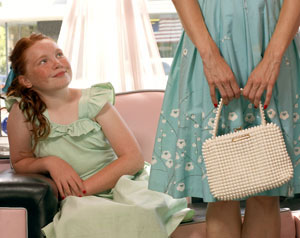 Along with Valentine's Day, Mother's Day is traditionally a watershed date for restaurateurs, but this year, business owners are stacking the deck with perks and freebies galore.
For instance, at the elegantly Mediterranean Aleo in the Flatiron or the game lovers' Braai (the only South African restaurant in Manhattan? perhaps), they'll spring for Mom's entrée. Take her to Benoit Restaurant and Bar, and she'll walk away not only stuffed to the gills with classic French bistro food from Alain Ducasse himself, but she'll also score a copy of the Ducasse Made Simple cookbook. Booking your reservation through OpenTable gets your mother a free cocktail and a rose at the old-school Madison Bistro, while at Broadway East, the lure is complimentary champagne and warm banana bread. Finally, at Midtown steak mecca Beacon, they're pouring free mimosas you're your ma and arranging for complimentary family portraits.
Check out a full list of Mom's Day deals at OpenTable here. Of course, the only problem is that your mother will expect these kinds of perks every year. Good luck with that.
Copyright FREEL - NBC Local Media