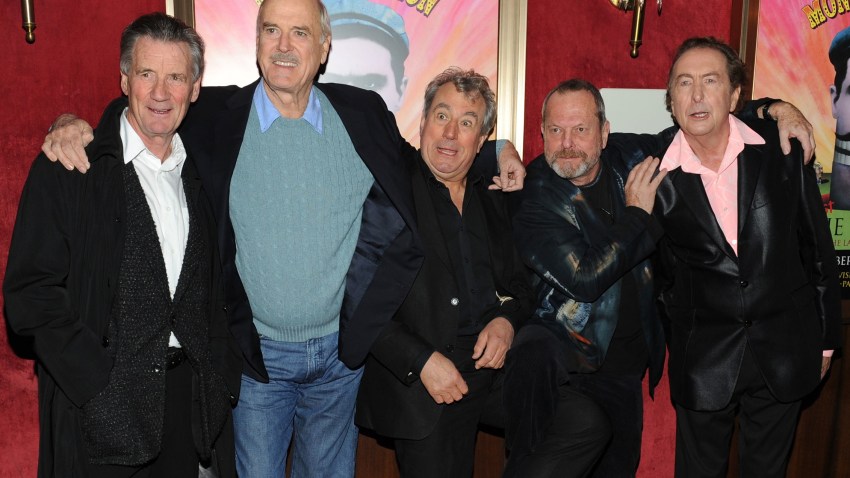 After a screening of the new IFC documentary about the troupe, "Monty Python: Almost the Truth (The Lawyer's Cut)," the five surviving members, John Cleese, Terry Gilliam, Eric Idle, Terry Jones and Michael Palin, assembled onstage at the Ziegfield Theatre Thursday night. They were joined by a cardboard cutout of Graham Chapman, the sixth Python who died in 1989, which was later tossed offstage so Carol Cleveland, who appeared in the Python films, could have a seat beside the gents.

Even when the members of Python were young they seemed old, or as Gilliam said from the stage, "There is an antique quality about the old shows, like a scratchy 78." So, suffice it to say that the group is not altogether changed by old age. Liver spots, balding pates, limps, waddles, coughs, jowls, hairy ears, bunions, rasps, distressed organs, incontinence, arthritis, myopia, constipation, disfigurement, disorientation, drooling, osteoporosis, angina, hypertension, acid reflux, and lapses in memory have not affected their humor and timing in the least.

They never told jokes with punch lines, so much as they were just funny. And they still are, though for the most part, they continue to eschew punch lines or that rim-shot moment.

Despite covering much off-color material and having a ribald reputation, the chaps in the group are, above all, gentlemen. After all, they are British. And in true courteous form, they saved the best joke for Graham, in absentia. Prompted by Cleese's attempt to change the subject from a rather off-color tale of the deceased Chapman's dalliances with the Boston Stunner -- an attempt which amounted to "What about that very funny thing that happened at Auschwitz?" -- Cleese and Jones shared a story about when the Pythons toured Germany and someone insisted they must tour a concentration camp. Well, OK, said the Pythons, somewhat nonplussed. When they got to the concentration camp (not Auschwitz) they were told it was closed. Graham shouted, "Tell them we're Jewish."

After closing with Idle strumming a guitar and the group joining him in a rendition of the "Galaxy Song" from "Monty Python's Meaning of Life," the Pythons were presented with a special BAFTA (British Academy of Television and Arts) Award for contribution to television and film. Though, as David Parfitt, chairman of BAFTA, pointed out before handing the award to Cleese, "That hardly sums it up."

The two-hour theatrical version of "Monty Python: Almost the Truth (The Lawyer's Cut)" is in limited release, and the entire six-hour series begins airing on the IFC Channel Sunday.
Copyright FREEL - NBC Local Media