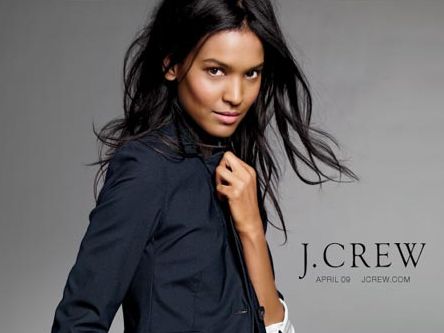 Ethiopian-born star model Liya Kebede is really on a roll.
Kebede's recent The Daily News lists a string of spectacular successes this month: She's started her own children's clothing line, Lemlem (which "flourish" in Amharic), which will be available at upscale spots like Barneys and Scoop Kids for spring; and also signed a unique deal with J. Crew to become the exclusive face of the brand for an upcoming catalog. This huge modeling win comes on the heels of her becoming the first black model to ink a deal (worth, by the way, a cool $3 million) with cosmetics goliath Estee Lauder.
Now we hear that, in addition to the catalog exclusivity, the popular American sportswear brand will also buy select handmade pieces from the Lemlem spring collection to sell as a stand-alone within J. Crew's Crewcuts line.
According to The Daily News, the J. Crew collaboration was spearheaded by the label's design director, Jenna Lyons, who said she was "bowled over" the first time she saw Kebede's collection. Says Lyons, "You get two feet away from them and can't believe how beautiful they are."
Since all the pieces in the Lemlem collection are handmade, the retailer has made the bold step of carrying them online at jcrew.com and at one store here in the city—99 Prince Street in SoHo. The pieces should arrive in store and online as early as April, but be warned, the unique style has a price: $80 for a scarf and up to $175 for a party dress.
Copyright FREEL - NBC Local Media