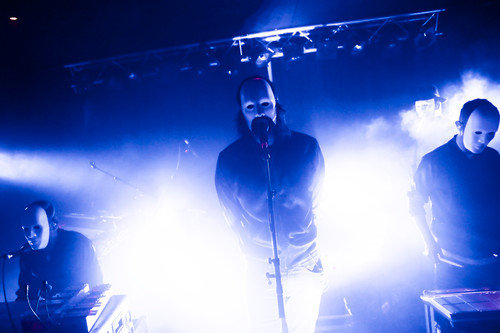 "It's nice to be home," Andrew Wyatt, frontman for synth-pop trio Miike Snow said Friday night to a packed house at Music Hall of Williamsburg in Brooklyn.

The first of three shows this weekend in New York City, it was the first show back home for the New York-based Wyatt, following up recent gigs in Austin, TX for SXSW.

And the Manhattan-heavy crowd was eager to see him.

Through a purple haze of synth-sounds and smoke screens, the white-masked trio, who perform live as a 6-piece emerged on stagejust after 10:30 p.m.

Wyatt, who remained masked for the first few songs of their hour-long set, opened with "Burial", followed by a hard-hitting version of "Black and Blue" that was highlighted by Wyatt's affinity for head banging.

He split time between piano and guitar and previewed an unreleased song that Wyatt described to NBCNEWYORK.COM as sounding like "a swimming pool full of baby gorillas, or Randy Newman."

"What was the verdict on that one?" Wyatt asked the crowd. "Any nays?"

Decidedly no, and the crowd was rewarded with "Animal," the group's most popular song.

By the time "Sylvia" and "Plastic Jungle" made their appearance all masks were off and a swirl of lights and limbs filled the hall thanks to the synth sounds of multi-instrumental Swedes, Christian Karlsson and Pontus Winnberg, a production team known as Bloodshy and Avant, who paired up on keys and drum machines.

In a display of showmanship, Wyatt threw down his guitar and one by one members exited the stage after fine-tuning their feedback during an extended offering of "In search of."

Miike Snow will be performing tonight with Delorean at Webster Hall and Sunday at Bowery Ballroom. Their self-titled debut was released on Oct. 20, 2009 via Downtown Records/Universal Republic.