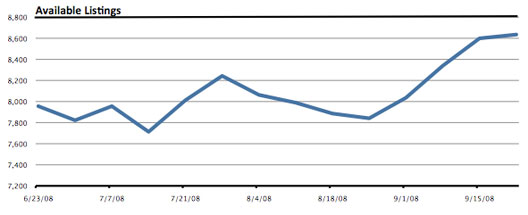 You've heard it from the major brokerages, you've heard it from Jonathan Miller, and now, you'll hear about Manhattan's third-quarter real estate performance from the gang at StreetEasy. It's only the website's second-ever quarterly market report, but it's already got some fun bells and whistles. In addition to the standard price info—like the other big reports, they note that prices and inventory are up over last year, and the average price is $1.46 million—StreetEasy also presents data on price slashing and broken contracts. They report over 1,300 price cuts on condos this past quarter, up 2.1% from the previous quarter and more than double the cuts from last year's third quarter. The biggest price cut was actually on a co-op unit, as #4A at 1120 Fifth Avenue plunged 36.8% from $20.4 million down to $12.9M. There were 291 broken contracts in the quarter, with 130 of those coming in September, just as the world was ending. Fun reading for the whole family!
· StreetEasy Market Report: Manhattan Q3 2008 [PDF]
· Market Reports: Prices Up, Sales Down, Worry Prevalent! [Curbed]
For more stories from Curbed, go to curbed.com.
Copyright CURBD