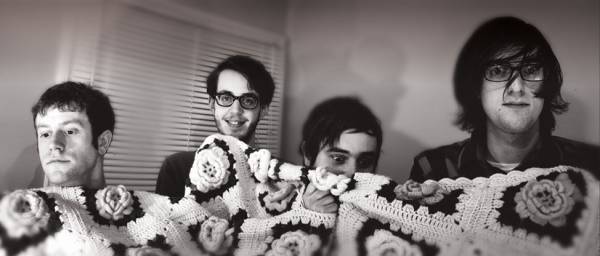 Tuesday, March 27 at Mercury Lounge, Wednesday, March 28 at Glasslands, Cloud Nothings, A Classic Education, $12
Young Dylan Baldi and his group Cloud Nothings won rave reviews for this year's Attack on Memory. Which is understandable, as it's a very good album, filled with sticky hooks, Mascis-by-way-of-Cuomo guitar crunch and the feel-it-in-your-chest drum sound that producer Steve Albini does so well. We think the album blew people away not just because of how it sounds, but what it represents. Between Cloud Nothings and Chairlift, the recent movement of chilled-out bedroom pop recording artists seems to have realized that disaffection and cheap recordings have their charm, but things like "commitment" and "memorable songs" and "decent drum sounds" are even better. It's an encouraging trend. Let's hope it keeps up.
Thursday, March 29, AU, Howth, Skeletons, Leverage Models at Cameo Gallery, $10
Working under the name AU, Luke Wyland makes gold sounds that split the difference between experimental pop groups like Animal Collective and modernist composition in the Steve Reich vein. It's all very immaculately layered and arranged, but Wyland never forgets that all this intellectual music theory stuff needs to be the process, not the goal, which is why AU's music often plays like one big wave of liquid sunshine washing over you one rising motion at a time.
Sunday, April 1, Wild Flag, Hospitality at Webster Hall $22
Oh wait, the lady from "Portlandia" has a band? We like jokes about CSAs and "Battlestar Galactica" binges as much as the next insufferable urbanite, but thank the Gods that guitar warrior Carrie Brownstein hasn't completely ditched us for a TV career. After all, someone has to prove that growing up doesn't mean falling out of love with music. It means that you realize how lucky you are that you still get to take the stage for a living, and that therefore you are obligated to repay that luck by beating the audience to a pulp with the force of your passion. They'll thank you for it.