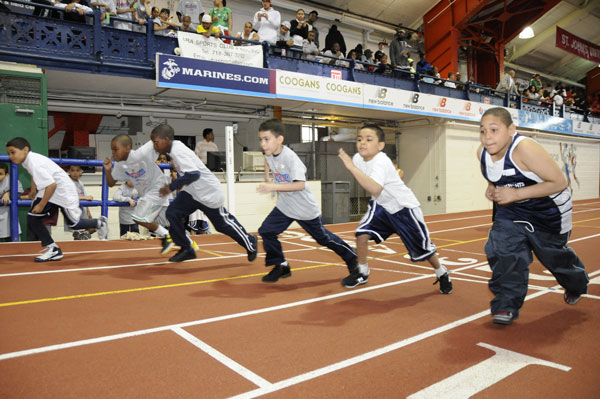 Years before Michelle Obama launched her nationwide "Let's Move!" campaign to battle childhood obesity, the organization behind the world-famous New York City Marathon had already set up a program that had kids running enthusiastically.
The New York Road Runners Club set up the Mighty Milers program in New York City six years ago, dedicated to getting kids in under-served areas more physically active, and since beginning with seven sites in New York City, the program has "exponentially grown each year," according to Laura Paulus, a spokesperson for the Mighty Milers program.
Under the program, participating schools or community centers set up opportunities for kids to run or walk two to five times a week, for a total of 26.2 to 104.8 miles in the course of a year (adding up to one to four marathons). They earn prizes along the way, and keep careful track of their mileage on individual webpages set up for them.
The kids may not be future marathoners, but that isn't the point, says Paulus. It's about getting kids to move in a way that keeps them active, engaged and healthy.
"The bottom line is, kids have to move," Paulus told NBC New York in a phone conversation. "Kids want to run, and they should run."
Ultimately, according to the Mighty Milers website, "it teaches students the enjoyment, importance and habit of physical activity as a cornerstone of a healthy lifestyle."
Many of the participating asthmatic children find themselves managing their asthma better, and some site coordinators actually lose weight in the course of leading the running program, says Paulus.
"It's the best-kept secret in New York City" when it comes to offering kids a way to get active, says Paulus.
And it's not just the running that empowers children. Some kids hit the track for a cause -- like the Mighty Milers at P.S. 269 in Brooklyn, who last week held a fundraiser for the Wounded Warrior Project by running a mile at the YMCA Park Slope Armory. The fourth- and fifth-graders have raised a total of over $5,000 for the cause.
Funding for the Mighty Milers comes from money raised from the Team for Kids runners in the New York City Marathon, as well as grants and fundraising events.
How schools and community centers can set up a Mighty Milers program
Often, a teacher hears about the program and reaches out to the New York Road Runners club, says Paulus. NYRR thoroughly vets candidate sites, and ensures teachers and leaders are serious about implementing the program and its goals.
"We want to see progress," says Paulus.
The program has been growing through word of mouth, and is continuing to see success, says Paulus.
For more on how to start a Mighty Milers program, visit the NYRR site.
Here's one video from NYRR's free collection of 83 coaching videos developed to help coaches and teachers teach the fundamentals of running (the collection last month won a 2011 Interactive Media Outstanding Achievement Award):