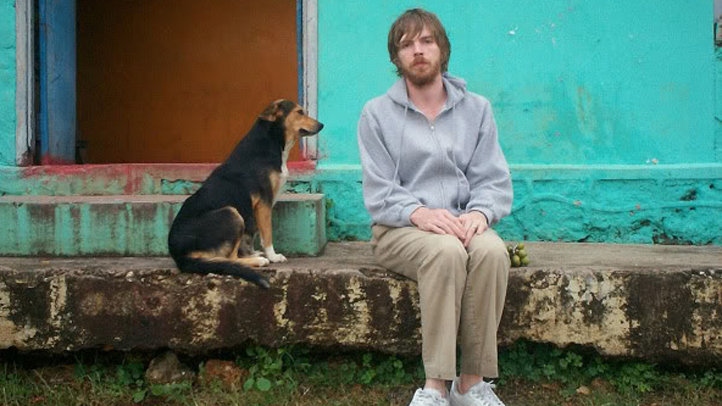 Here's the primer: Luke Roberts is a singer and guitarist from Nashville, now living in Brooklyn. He recently put out the twangy, big-drummed and smoldering LP Big Bells and Dime Songs, initially on Ecstatic Peace! and now reissued on Thrill Jockey November 8.
Below is the official video for the album's bridging track, "Unspotted Clothes," directed by James Clauer. Roberts plays Zebulon tonight with bluesist Mike Bones, and it's free. You really must watch to continue reading from here.
I call Roberts, the video's star and songwriter, to inquire. I wake him up from a nap on Tuesday evening. Roberts has to use the bathroom so he puts the phone down before our conversation starts - a true gentleman.
DWE: How important are clean sneakers to you?
LR: Not very.
DWE: You're from Nashville but you live in Brooklyn now. Where are there more weirdos, Brooklyn or Nashville?
LR: Absolutely Nashville. Everybody I know from Nashville is a certain brand of crazy.
DWE: Who gives the devil sneakers as a gift?
LR: We never figured that out. The original screenplay we didn't get to execute because the weather was bad when I was down there [Nashville] to film. There were supposed to be two devils in the screenplay and the devil that's hitchhiking gets hit by the devil driving the car, both played by me.
DWE: And what does this have to do with the song, Unspotted Clothes?
LR:
Unspotted Clothes is from the bible, I can't remember where. [Ed. Note: nearest match is
James 1:27
]
DWE: What is your favorite novelty explosive device?
LR: I like them all.
DWE: What relevance does the number 79 have to you?
LR:
That's the year I was born. And actually I was in a band called Spread Eagle 1979. Every member of the band was born in 1979. It was kind of a hardcore band and we only made cassettes. You can probably find those recordings through Judd Taylor, who was in the band. He's in a band in Texas called
Sex Vid
. He was the drummer of Spread Eagle 1979.
DWE: What is the sample sound at the end of the track?
LR: That's special to the video, it's a firework.
DWE: What do you love about playing Zebulon?
LR: They pass around the hat.
Tomorrow I'm going to play some new songs by myself and some old songs with my new band. My band is Stephen Tanner from
Harvey Milk
, Allison Busch from
Awesome Color
, and this Southern rapper Palehorse.
DWE: Did you meet Stephen when you were working on your album with Kyle [Spence, also of Harvey Milk]?
LR:
Actually I met Stephen Tanner when he gave me a job frying chicken at
Pies and Thighs
because I had experience frying chicken. In Nashville, I worked at Hog Heaven, a pulled pork place.