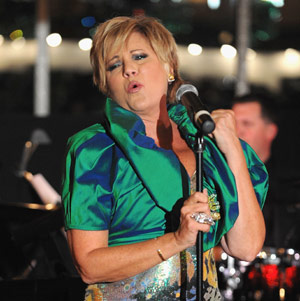 Liza Minnelli got the early fame, the Oscar for Cabaret, the Emmy for her Bob Fosse-produced special (Liza With a Z), the notoriety for marrying men like Peter Allen (gay) and David Gest (hmm), the Tonys, the substance addiction, the cameos on Arrested Development… Meanwhile Lorna Luft, Judy Garland's other daughter, has worked steadily as an actor and singer but is still best known for playing a ditzy blonde in Grease 2 and penning the book (Me and My Shadows: A Family Memoir) that was adapted for the TV biopic that had Judy Davis doing an almost eerie Garland impersonation. But Luft kind of has the last laugh, because while her sister's ups and downs have taken their toll on her voice, Luft's vocal prowess has maintained and even mellowed, with a sound that conjures her mother's own singing in a way Minnelli's never quite has—which is why Luft is the one Rufus Wainwright tapped to join him onstage at Carnegie Hall when he did his Garland tribute.
Riding this newfound appeal, Luft lands at Feinstein's starting tonight for a six-night run with Songs My Mother Taught Me: The Judy Garland Songbook, a show she's toured to sold-out houses in the UK based on her (Barry Manilow-produced!) album of the same name. Go for the old-school Vegas-ness of it all and to witness those Garland genes at work.
Songs My Mother Taught Me: The Judy Garland Songbook Tuesday, January 4-Sunday, January 9, 8:30PM. Feinstein's at Loews Regency, 540 Park Avenue, 212-339-4095. From $40 plus $25 minimum, tickets available here.