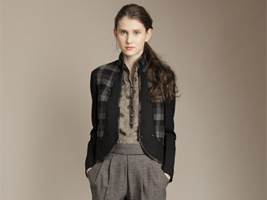 When Bill Blass closed last year (after a slew of designers including Peter Som had attempted to keep it alive after the designer's death), no one would have imagined that one year later a relative newcomer would be tapped to bring the label back to life.
Jeffrey Monteiro has only had a line under his name for one year, but his career has already brought him in contact with some of New York's most insider-beloved labels since he moved here in 2000, including Derek Lam and indie darling Jane Mayle. We featured Monteiro almost exactly one year ago when he'd launched his Spring 2009 collection -- while by no means innovative, his design remains chic, wearable, and have a vintage-inspired, sexy flair that seems the mark of the designers he's worked with.
Monteiro was chosen from a pool of more than 100 designers to lead the new Bill Blass, which is now owned by The Bill Blass Group (a new company that purchased control of the trademark after the label closed). As Scott Patti, the new owner, told The New York Times, "He's very low-key and realistic ... Bill Blass designed real clothes, and that's what Jeffrey does as well."