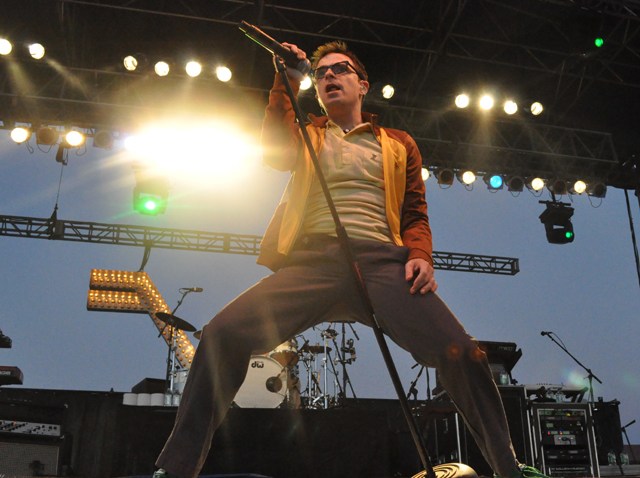 Weezer front man Rivers Cuomo, the face that launched a thousand wimps, has spent a decade and a half alternately disavowing and embracing Pinkerton, their brilliantly tortured 1996 sophomore album. Earlier this year, it seemed as though he'd finally made his peace; the band announced their fall "Memories" tour, a series of two consecutives shows in each city in which they'd perform their chart-topping 1994 debut Weezer ("The Blue Album") on the first night and esoteric cult classic Pinkerton on the second. The nostalgia fest kicks off November 26-27 at Gibson Amphitheatre in Los Angeles; more dates, including New York, will be announced soon.

However, if your Weezer nostalgia cannot be tamped until then, or if you've simply always dreamt of getting punched in the face to the dulcet tones of "Buddy Holly," New York hardcore kids Bomb the Music Industry present a solution: their own Blue Album/Pinkerton gig. Condensed to one night, October 8, in the shabby Bushwick DIY space Silent Barn, the evening promises to be slightly different from the genial Weezer tour: first, Bomb the Music Industry are a bunch of young ska-punk brats, and they suffuse their scabrous blasts of songs with endless horns and distortion. Second, we know three unrelated people who've each lost a quart of blood in their mosh pits; this band does not mess around.

If latest word from the Silent Barn organizers is any indication, plenty of East Coasters are dying to get thrashed senseless to horn-heavy renditions of "El Scorcho." When Facebook RSVPs hit more than twice the capacity, the venue issued this statement:

Obviously 337 (or whatever number is up there when you read this) people can't fit in our house, so we have to sell tickets. It'd be fun to sell them in person, but it sounds like a bunch of you are from out of the city. I did some research, but ticketing apps, credit cards, and all that junk sucks [Jeff adds: they all steal yo' money!!!]. So here's the deal: Email SILENTBARN@GMAIL.COM if you're planning on coming. First 150 email addresses get tickets held for them. NO ONE ELSE CAN GET IN. Oh, and we're totally gonna record this, don't worry."

Bomb the Music Industry isn't usually in the cover-band biz; they typically tour with such grit-punks as Mustard Plug and howl about the Man and the Hipsters. Led by songwriter/producer Jeff Rosenstock., the Nassau County collective boasts around 15 members in its revolving roster and released their first record, Album Minus Band, on DIY label Quote Unquote in 2005; for a succinct mission statement, consult its opening track, "Blow Your Brains Out On Live TV!!!"

It's a neat symmetry, knowing that the first sold-out Weezer show is being held by the kids who would've beaten them up.