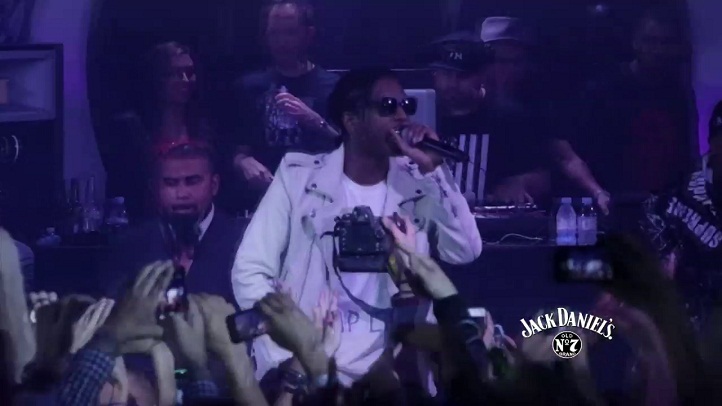 Bath salts, obviously, are probably not a thing you should involve yourself with. They're not fit for human consumption, and according to many reports they lead to total ego death, rendering the user an anxious, paranoid id. But listening to "Bath Salts," A$AP Mob's new track with Flatbush Zombies, it seems like someone should take them. We're just glad it's not us.
Despite his astounding, two million-dollar record deal with RCA, the consistently impressive A$AP Rocky continues to do his own thing. He's joined forces with fellow A$AP Mobber A$AP Ant, as well as Brooklyn nutjobs Flatbush Zombies for this posse cut, which—obviously—is about acting crazy like you just took a bunch of bath salts. The track is the first single from the upcoming A$AP Mob group album, due soon as part of Rocky's aforementioned massive deal. Rocky acquits himself well here, batting cleanup on the track and sounding equally at home on the super-underground beat as he does rapping over Hit-Boy's lush production on his single "Goldie." Still, Rocky has the track straight stolen out from under him by Flatbush Zombies.
Flatbush Zombies are an interesting crew, to say the least. Their oeuvre is one of the more out-there ones in current New York hip-hop—one of them has a gigantic green beard, and the other one looks like Sideshow Bob from The Simpsons. Their rap style is characterized less by something of a discernable flow and more of an extended shrieking, and their lyrics mainly concern being drug-selling zombies. It's wonderful in its own, weird way, and they're the perfect fit for "Bath Salts." The song, we mean, not the actual drug.
Check the track out on SoundCloud. Warning: It's quite explicit.