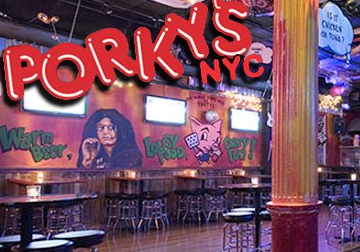 If you feel a tinge when you heard that Porky's, the '80s teen sexcapade movie series themed bar on 21st street, was shuttering, it might give you pause to learn that owners that Cole Bernard and Eric Unger of the Status Group (the Team behind the Eldridge) are flipping the joint into something more "grown up" -- per the press release. (You probably also live with your mother.) That is, until you hear what the group's idea of growing up is.
Meet the Yard: which aims to be re-creation of yard parties from from your childhood -- but with bottle service and girls dancing on the bar. The place is being redone by the artist who painted the Porky's murals. He says he's trying to recapture some of that childhood innocence among the sloshing fishbowls: "Be it your backyard, school yard, junkyard, bus yard, train yard, lumberyard, or boatyard -- we all had some sort of yard in our neighborhood to play in. This is where we let our imagination go wild." And by letting their imaginations run wild he means create a place that brides-to-be will still want to come to wearing penis necklaces.

The big unveil is this weekend, on Halloween, at which the club promises "various celebrity guest hosts, a daytime pub crawl, and the best Halloween party in town at the end of New York's Village Halloween Parade." See there was no reason to be nervous about Porky's closing. And if the Yard doesn't pan out you'll still have Brother Jimmy's.

Copyright FREEL - NBC Local Media