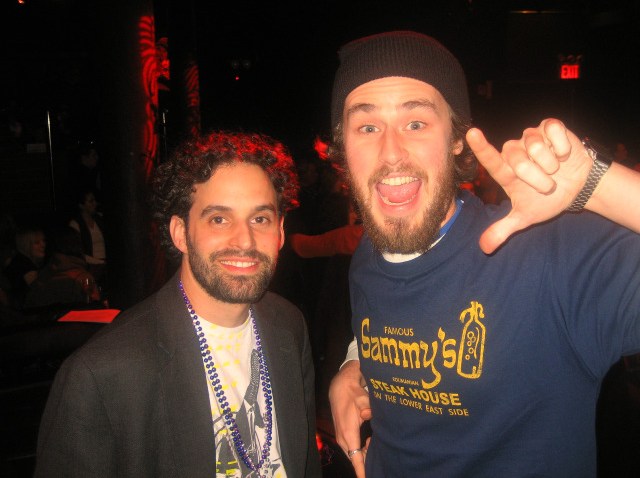 In its two-year existence, Bleeker St. music venue (Le) Poisson Rouge has always sought to meld arts with revelry. For Super Bowl Sunday, they added football fandom to that juggling act, converting their dance floor into a sprawling sports bar last night.
The action was broadcast on a 12-foot projection screen, the Who's decibel-decimating half-time show blared over the Meyer sound system and all matters of artery-clogging Cajun food and Bourbon Street-style cocktails were served. Not that the owners were one-sided Saints fans. Or were they?
"To be quite frank, we couldn't find signature Indianapolis elements as easy as we could for New Orleans," (Le) Poisson's co-founder and lifelong Giants fans David Handler said when explaining the Nola-heavy theme. "But, I have to say we're a little bit biased: New Orleans -- besides working well with our French name -- stands for a lot of the party vibe that (Le) Poisson Rouge is all about.
"Plus the fact that the city has been through so much and its their first time in the big dance, so we're kind of pulling for them."
Half-hearted hipster fans echoed that favoritism, albeit in their own special way, putting down glasses of white wine to cheer on Drew Brees and his boys. By the time the Saints sealed up victory with cornerback Tracy Porter's 74-yard interception return, however, the crowd went certifiably berserk, jumping up and screaming, throwing chairs and high-fiving with the fervor of rock fans, well, rocking out underneath the rotating disco ball, which had been turned on in celebration.
Speaking of rocking out, the ability to hear The Who's much-hyped halftime set on a club's crystal clear sound system instead of straining to hear it over the bro-tinged cacophony of a typical bar seemed as big a draw as the game itself. "I think The Who has got as much of a pull as anyone with a football in their hand tonight" Handler laughed, surveying the atypical audience.