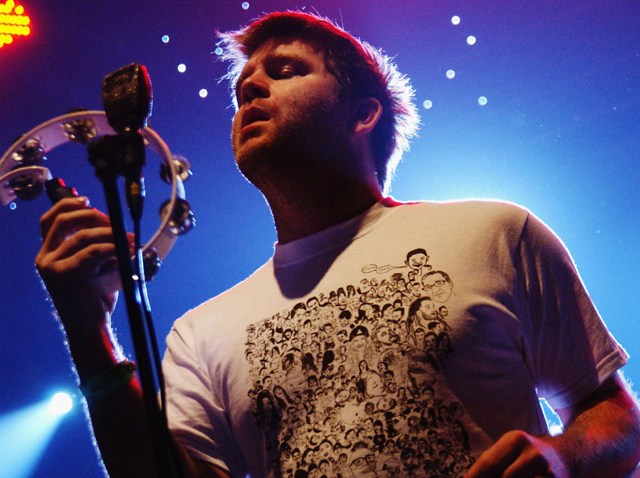 If you are one of the few people tired of reading all the press for LCD Soundsystem, then this post was not composed for you. For those of you with a sliver of the amount of love I have for this band, please keep reading.
This is my unabashed look at the first of four LCD Soundsystem shows at Manhattan's Terminal 5 before their grand finally at Madison Square Garden on Saturday, April 2.
I'd love to give some page space to openers Liquid Liquid who pioneered the dance-punk movement popularized by James Murphy and his DFA bandits, but my focus was on the main event and for a guy who sees live music nearly every night of the week, I could not have been more nervous slash excited for them to take the stage.
As the lights dimmed and the crowd swelled, LCD Soundsystem took the stage behind an army of assorted gear. The casual cadence of "Dance Yrself Clean" began creeping through the air and was eventually joined by a touch of synth, James Murphy's voice and a boys choir that was tucked away backstage on the second floor balcony. Tension built over the course of the three plus minute intro until the band dropped the hammer and the crowd erupted into a drink-tossing, elbow-throwing dance party.
The show lasted over three hours and was broken up into three sections with short set breaks in between. The first and final sets were full of classic LCD hits alongside side a number of tracks off their latest studio album This Is Happening. Highlights of the first set were naturally the bombastic opener, the often forgotten "Thrills" and one of my favorite nods to city life "Yr City's a Sucker".
The second set was a pleasant surprise. The band, joined by Reggie Watts on vocals for a spell, cranked through a rousing version of 45:33 which was commissioned by Nike in 2006. Much like the recorded version, this live jam session took the crowd on a walk of peaks and valleys that helped keep the crowds energy up while we ran this collective musical marathon.
After the second set break, LCD Soundsystem came out swinging like a prize fighter who knows they need a KO to win the fight. Believe me, it was relentless. Just look at this list of crushing blows they threw at us:
Us v Them
You Wanted a Hit
Tribulations
Movement
Yeah
Synths!
Someone Great
Losing My Edge
Home
A list of songs like that and a unhealthy amount of vodka soda is enough to leave any grown man in the same sweaty puddle I was sitting in, but before James, Nancy, Pat and the rest of the gang could say goodbye for the first of five times, they laid "New York I Love You" on an appreciative crowd who needed to be let down softly. It was the perfect ending to the start of a week that will be remembered long after the band hangs up their instruments.
Now time to start stretching out for night two!