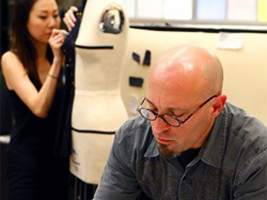 The second episode of "Launch My Line," Bravo's latest fashion reality show, has aired, bringing us new drama, butterfly beach fashion, and yes, a wool swimsuit.
The challenge this week was to design an outfit for the beach that included a butterfly or jellyfish trend, as predicted by some trend forecasters. No surprise, the claws were out again: Patrick and Roberto again attempted to out-dandy the other (and did Robert really name-drop Valentino?), Louanna acts snippity and snobby, and Coco was apparently feeling too sick to really work this episode. Overall, the fashions -- again -- were pretty horrifying (at least in our opinion) with the possible exception of Merle and Patrick's rather fetching sundresses. Somehow, Eric's sparkly-butterfly-and-sheer-print-explosion of a caftan wound up on top. Madness.
Architect David, alas, was sent packing, after his ill-advised wool swimsuit-that-you-don't-swim-in was a flop on the runway. We actually thought it looked rather cool, though it didn't exactly fit with the challenge. He was also pretty flustered on the show by Dean and Dan suggesting he should think more like a designer, and less like an architect.
How do you see the issue of all these designers not being designers (as in, you're actually an architect) playing out through the show?
I'm actually wondering if it was actually a disadvantage -- instead of being free to change my point of view, I was stuck doing what architecturally works for the fabric. I don't think Kevin Black's background will play into hsi design, and with Eric it's basically what he's seeing. When I was kicked off, Dan actually said, "David, you're brilliant with concrete and steel and glass ... but not so much with fabric. Your line is dropped." So he clearly thinks I have a good point of view.
So you think that was your main disadvantage?
I think my fabrics were my disadvantage more than anything else. I made two strong decisions that were against me in the end. I wanted to create the kind of clothes I thought most women would look good in and be able to buy in a department store, and not some kind of specialty, show-off thing. My research was mostly looking at what women were wearing, not so much runway. In the end, that was a terrible miscalculation. Then, my thought was that we'd have other choices for baseline fabrics ... A lot of people went more colorful and varied, but I stuck with easy-to-translate colors and fabrics. I didn't have the palette and I didn't have anything in a summer weight. I ended up having other pieces but it looked like "Morticia at the Beach."
What about all the drama on the show -- are you guys all actually friendly behind the scenes?
A lot of us are getting together tonight! There's a reception at Kathy's jewelry store. I'm going because I love Kathy. And when the show was over last night, the first person to call me was Eric. He's been like a brother. I'm keeping my eye on Kathy, on Patrick, and on Eric. And you can't dismiss Merle, because she's got the best expert of all of them -- we're only as good as our partners, and Louanna and Merle have phenomenal sewers.