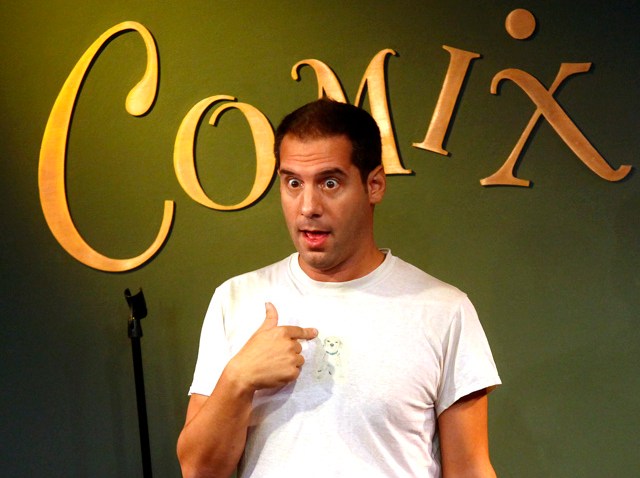 For six years, Seth Herzog has hosted a weekly Tuesday night comedy show at The Slipper Room called Sweet that has boasted recent cameos from John Mayer, Paul Rudd, Justin Long and Zach Galifianakis, to name a few.

Niteside grabbed a moment with the comedian after his day job as the warm-up comic for "Late Night with Jimmy Fallon" to talk about how Zach Galifianakis made "The Hangover" a success, where Sweet is headed and how Donald Glover, of NBC's "Community," almost became his step-dad.

How did you decide to start Sweet? In 2001, I was producing a weekly show with Josh Weinstein ("Simpsons," "Futurama") and John Veiner ("Family Guy") called "The Industry Room." It was a lot of fun. Eventually Josh and John moved out to LA, which ended that series. The fans of that show ... asked me to start a new weekly show. At the time I was hosting the burlesque show at The Slipper Room and the owners needed an event to fill out their schedule. I pitched doing a weekly comedy show for them and they were thrilled with it. That's how it all started. I did the first night of the show with Michael Showalter, Zak Orth, Demetri Martin, Ed Helms ("The Office"), David Wain and Paul Rudd.

You've had some pretty big names drop by to join the fun. Paul Rudd, Justin Long, just to name a few. How much begging does it take to get A-Listers to come down to the Lower East Side on a Tuesday night? It's not so much begging them to be on as I am convincing them that it's a really great experience. Paul Rudd, for example, is one of those people that is really up for anything. He was in the very first Sweet show. Since then he's been a part of the show three times. Of course, lately he's been busy being a movie star, but whenever he's in town he e-mails me and we figure a time for him to drop by. Justin Long is also somebody who's discovered how fun the show can be. First time he did a sketch with Sam Rockwell. Since then he's been a Sweet regular and shared some pretty juicy stuff with our audience. Once people get in it, they want to stay in it.

One moment people might know your show from is when John Mayer did an impromptu stand-up set that went bad and got him labeled an "accidental racist." Obviously, the John Mayer incident was infamous. I'm friendly with John. I saw clips of him doing stand-up online and thought it would be great to invite him to the show. We have a mutual friend, Jordin Rubin, who brought him down to maybe do some stand-up on the show. He did his set and then sat down. All was good. Then for some reason he got back onstage during Kumail Nanjiani's time and started mispronouncing his name. It was just another spontaneous moments that happens at Sweet, but because it was John it made it into all the blogs and papers.

What are some other stories? We have a yearly dating game show on Valentine's Day where I set up a comic with a date from the audience. Some crazy things have happened, everywhere from people making out to getting in fights. One time Donald Glover ("Community") ended up on a date with my mom. He took it very seriously and was telling he was going to marry her and be my stepfather. Luckily, that didn't happen.

Your mom's involvement in the show is pretty legendary. She even has her own segment. How did that come to be? Back when I was doing The Industry Room I did a whole set telling funny stories about my mom. Nobody knew that she was in the audience. After I brought her up to refute all the stories I told about her. It was a hit. When I started Sweet, I had a lot of work to do and constantly had to write new material. Then I had the genius idea of just bringing my mom onstage and doing a segment called "What's On My Mom's Mind?" So every show I let her take the stage and make fun of her. Don't worry, she gives it right back. It's a winning formula.

How has your gig at "Late Night with Jimmy Fallon" affected the show? I actually work closely with the comedian booker for the show. We almost always have the comic perform at my show Sweet before they go onto "Late Night." That way we can look at his set and organize it best for "Fallon."

What New Yorker would you like to see drop by Sweet in the near future? Alan Cummings needs to come down to tell some stories. I know he's got plenty. Louis CK is someone that has done other shows but not mine. I'm jealous. I hope he reads this. I think he'd have a great time with us.

You watched a number of New York's alt-comics rise to stardom. Most recently Zach Galifianakis. I remember him performing at clubs in New York, he was always doing interesting bits. Then he moved to LA. I think it was in 2000 when he started telling absurd one-liners while playing piano, you saw him do it on "SNL." That was when he really found his voice. I think it was just about somebody giving Zach a vehicle to do what he does. I'll go as far as to say that "The Hangover" was a hit in large part because Zach was able to do his thing. The country got to see how he is funny. You have to respect Todd Phillips for allowing him to to his thing. Aziz Ansari is another guy who started in our little world. I got him to do my show a bunch. His set was always a hit. People would e-mail me after the show and ask me to get him back. That doesn't happen often and when it does, you know someone is going to go far.

Well Zach and Aziz have made it. What's next for Sweet and Seth Herzog? I'm finally building a website for the show. There's going to be lots of stuff on the site. I would love to get some original videos on the site under the Sweet label. The Slipper Room is going under construction so we have to find a new venue within a few weeks. I'm hoping for a theater this time. And then maybe a TV show. We'll see. Some exciting things coming up.