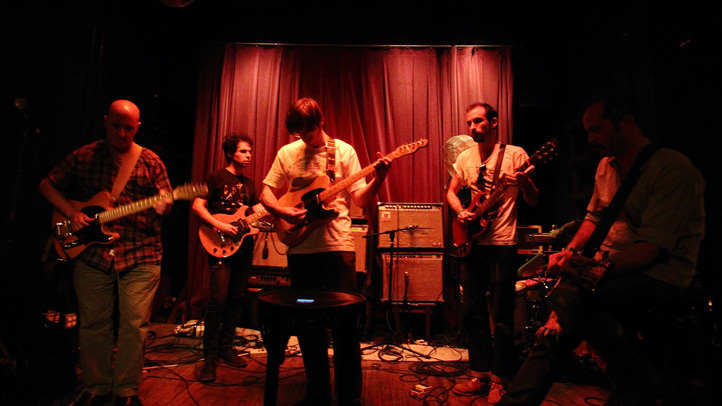 Last week, we brought you word of Brooklyn's experimental champions Oneida and the band's three-day record release show, a spectacle that by all accounts went forcefully well. But never ones to be content at rest (as evidenced by the ten-hour improv session they did last week) the band has a few other projects under way.
Kid Millions, Oneida's drummer, fronts Man Forever, an experimental ensemble that usually plays on tuned drums. But last night, Kid brought a crew of four other guitarists to the stage at Union Pool to debut a performance of a piece for five guitars. It stemmed from a thought Kid had about playing the same composition, slightly altered, at five different, adjacent spaces in time.
So that's exactly what happened. Kid, joined by a quartet of the like-minded, conducted two incidents: the ensemble's entrance and the ensemble's cut-off. The thirty minutes or so in between were a hypnotic, swirling, poly-rhythmic ride into "the zone," aka the pocket, that place we hear about so often from Deadheads or free-jazz-o-philes.
But if this performance proves anything, it's that chance music and improv don't necessarily need to be complex in themselves to invoke a rich, complex texture. That, and that loop pedals still can't account for every variant in this golden age of minimalist composition -- this was pure guitar quintet, mixed as to seemingly demolish any distinction between the guitars. I wondered at points if the players themselves could even tell which sounds he produced -- it blended seamlessly.
Murmurs of the performance being self-indulgent ran through the crowd afterward, but this writer wonders if that notion is a little unfounded. I mean, the entire thing seemed to be based around anti-climax: the third movement oscillated on a single note for nearly ten minutes. While that may sound staid, with the unique tonalities of the five guitars meshing and the inevitable finger flubs, there were incredibly complex overtones building and falling, clashing and melding. And besides, with a concept like this, wouldn't it have been more self-serving to perform as a tape-music ensemble?
Perhaps. But then we would have lost the visual of five dudes grooving to five different songs, played at once, and inseparable from each other.
Man Forever plays again at Glasslands July 9, opening for the excellent Citay and Endless Boogie.