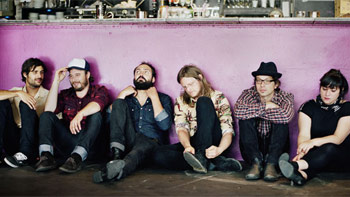 Psychedelic pop sextet The Bewitched Hands are French (they hail form Reims), but they sing in English, and we're happy to see they've truncated their original band name ("The Bewitched Hands at the Top of Our Heads").
Just in from playing a few SXSW shows, their dreamy, lush sound and love of harmonies recalls collectives like Broken Social Scene and Arcade Fire. Powered by a sold-out tour in their native France and critical nods from outlets like NPR and Nylon's Music Issue, their U.S. full-length debut Birds and Drums comes out on their imprint Look Mum No Hands on May 24.
They open for bespectacled Aussie popmonger Washington tonight at Mercury Lounge.
The Bewitched Hands, 9PM at Mercury Lounge, 217 East Houston Street; 212-260-4700. Tickets $8 at the door.