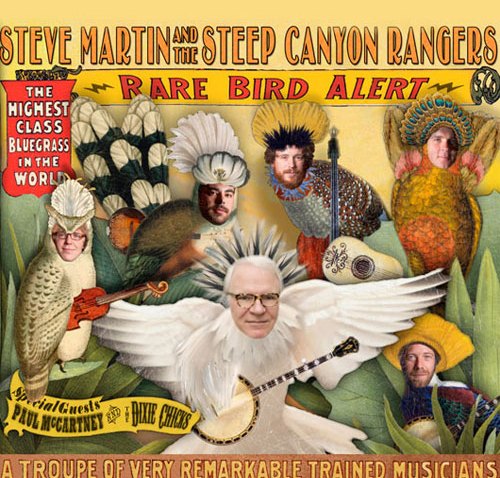 To be frank, even if Steve Martin was a middling musician, he'd probably sell out all of his upcoming performances (including Highline Ballroom tonight, Joe's Pub for three nights starting tomorrow the 15th, and the Music Hall of Williamsburg on Saturday 19) on the strength of his cult following—for everything from acting to his New Yorker essays—alone. But he's not. Martin has been a spectacularly gifted banjo player since his early stand-up days, when he incorporated picking into his act.
The comedian/writer/actor/playwright/art collector is set to release his second full-length bluegrass album Rare Bird Alert on Rounder Records on March 15. The record features 13 new tracks written by Martin himself, plus a live version of "King Tut" (yep, arranged for banjo), and was produced by banjo bigwig Tony Trishka. Martin is joined on the disc (and onstage) by picking crew The Steep Canyon Rangers, who've toured a bunch with him over the last year. And the disc would be nothing without some high-profile cameos: Paul McCartney and the Dixie Chicks drop by for some twang.
As if that wasn't enough, Martin has also established The Steve Martin Prize for Excellence in Banjo and Bluegrass, an annual award designed to bring "recognition to an individual or group for outstanding accomplishment in the field of five-string banjo or bluegrass music."
Our only regret? That pluck-buddy Ed Helms won't be joining him at these NYC gigs (or will he? hmm...).
Steve Martin performing with The Steep Canyon Rangers: An Evening of Bluegrass & Banjo, Monday March 14 at Highline Ballroom, 431 W 16th Street; 212-414-5994. Doors 6PM, show 8PM. Advance tickets are sold out, but there will be a limited number of tickets ($35) available at the door prior to showtime.