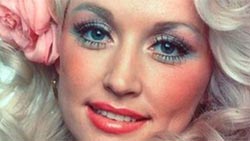 She's had 25 number-one singles and 41 top-10 country albums, created her own theme park, and turned out some of the saltiest quotes in recorded history (addressing her fondness for cosmetic surgery: "If I have one more facelift, I'll have a beard!"). The fourth of Avie and Robert Lee Parton's twelve children, all of whom famously lived in a one-room cabin in Locust Ridge, Tenn., rose to become the Queen of Country Music, and insodoing crafted one of the most fascinating and outsized (in every way) characters of our age.
Tonight at the New School, La Parton will be the topic of academic scrutiny and debate with a free event titled Desperately Deconstructing Dolly. Artist/scholar Jarrett Earnest will present a multimedia performance-cum-lecture on what he's calling "the complex mythology of Dolly Parton," assisted by a Dolly impersonator. And because it's Dolly, also known for her hospitality, there'll also be southern cooking on hand, and mixtapes for everyone.
Desperately Deconstructing Dolly, Thursday, April 14th, 8PM at The New School for Social Research, 6 East 16th Street, 10th floor auditorium. Free.