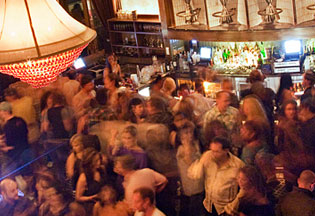 As Marquis and Avenue impresario Jason Strauss revealed via tweet, Lavo, the Las Vegas Italian spin-off of Tao which sort of looks like a set from Ben-Hur and is large enough in which to have chariot races, is coming to Manhattan. Strauss and partner Noah Tepperberg have sealed the deal with Mark Packer and Rich Wolf of Tao to bring the Italian restaurant and nightclub to midtown this spring.

The cozy little spot will seat 200 for dinner in the restaurant, serving classic Italian, and bring bottle service and a neon glow to the midtown masses, who the team concluded must be crying out for it. Lavo's brand of strip glitz is in short supply in the neighborhood it will be joining when it arrives on 58th Street right across from the original Tao.
Decor duties go to iCrave (Tenjune, STK), so hopefully the new Lavo won't look like an Olive Garden threw up in an airplane hanger.

As Eater rightly points out, this could be the start of a disturbing trend as this is likely the first time a concept has ever originated in Vegas and moved to New York. Unless you count the new Times Square.
Copyright FREEL - NBC Local Media