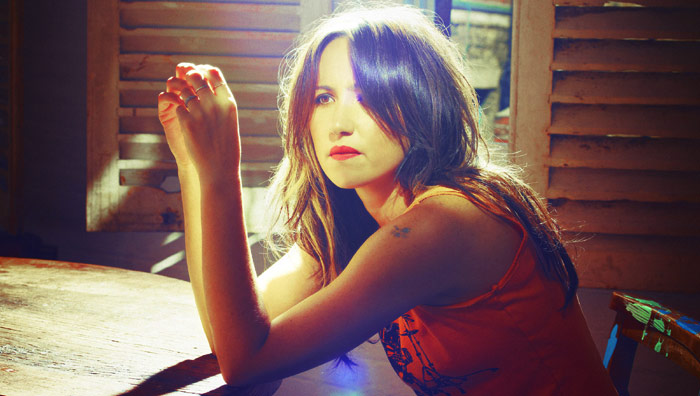 Kate Victoria Tunstall is about to hit the road with The Solo Show, a tour in support of Tiger Suit, her most recent album and the seventh in what's been a very busy decade. In anticipation of this lovable mutt's stop in our fair city (Tunstall is Scottish-born, half Irish and one-quarter Chinese), we asked her to fill out the Q. KT Tunstall comes to Webster Hall on Monday, April 11; doors 7PM, show 8PM; tickets are $27 in advance and $32 day of show at Bowery Presents.
Name: KT Tunstall
Age: 35
Lives in: Northwest London
Occupation: Musician

First real job?
Serving ice cream and cigars in an Italian deli in Scotland.

First record you ever bought?
Heaven and Las Vegas by The Cocteau Twins.

Where do you go to unplug?
My garden. I throw a rug on the grass and lie there until I feel normal.

What time do you wake up?
Given the choice, 10AM.

Where was your first NYC gig, and what do you remember about it?
It was solo at The Living Room on Ludlow. I was so, so excited to be there, I fell madly in love with New York instantly. It was a beautiful, intimate show with a lot of love in the room.

Top three songs in your iPod rotation?
"The Words That Maketh Murder" by PJ Harvey, "Cavalier" by Silver Columns, and a remix of Pheonix's "Lisztomania."

What do you splurge on?
Spa treatments. They totally rock my world.

Best meal you've ever had in NYC?
Italian at Emporio on Mott. Incredible.

What's your pre-show ritual?
Warble randomly, throw some shapes, dance to Little Dragon.

Do you Google yourself?
Very rarely. Usually to check the odd red carpet picture to see if I look mental.

Most treasured possession?
My 1975 White Gretsch Falcon.

Fill in the blank: In a previous life, I was ______.
...obviously having a really shit time, as karma's dealt me a beauty this time round.

Your favorite thing about yourself?
My rhythm guitar playing.

Who are your heroes?
David Attenborough, the Dalai Lama, Gandhi, Chrissie Hynde, David Bowie and Patti Smith.

What scares you?
Stasis.

Next project?
Trying to put a remix album together of Tiger Suit, and a dance music side project.

Fill in the blank: I'll know I've really made it when __________________.
I'm looking Mr. Death in his bony face, and I think to myself "Wow. That was great."

Tweet your obit (140 characters or less).
Here be Kate Tunstall. She came, she stomped, she shared, she loved, she rocked, she left. She'd like to remind you we are all made of stars.