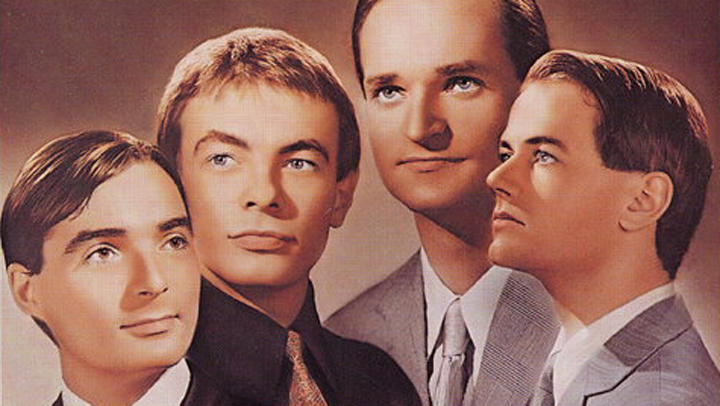 Legendary electronic music innovators Kraftwerk have announced an eight night residency at the Manhattan Museum of Modern Art that will begin on April 10. As part of the "Retrospective 1 2 3 4 5 6 7 8" series, the German pioneers will perform one of their seven influential albums straight through.
The group has more than seven albums, but this performance seems to take 1974's Autobahn, their worldwide breakthrough, as the starting point, which is fair enough. Also, 1977's Trans-Europe Express, a perennial placement on Best Albums Ever lists, will be performed on two different nights, because it's that important.
Kraftwerk's legacy stretches beyond electronic music to hip-hop, art-rock and any act that has ever used a synthesizer to try to achieve a cold, inhuman feeling. (Suffice to say, Rihanna owes them a great deal.)

They were one of the first artists to prove that synthesizers were not a novelty but a lead instrument, produced many of the sounds we still associate with electronic music, and were way ahead of the curve on the whole "technology isolates us from the world" lyrical bent. Suffice to say, there's plenty worth celebrating about their catalog.
Each performance will also also feature songs from through their catalog, and 3-D visualizations of the albums, which considering the setting, should be something. And although some people still think all electronic music performances is just hitting play on a computer, Kraftwerk are known for rearranging their keyboards, percussion and live instrument compositions to allow for onstage improvisation.
Retrospective 1 2 3 4 5 6 7 8 Schedule
Tuesday, April 10
Autobahn
Wednesday, April 11
Radio-Activity
Thursday, April 12
Trans Europe Express
Friday, April 13
The Man-Machine
Saturday April 14
Computer World
Sunday, April 15
Techno Pop
Monday, April 16
The Mix
Tuesday, April 17
Tour de France