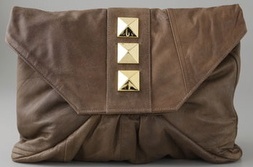 Newly launched in fall '09, Novella Royale bags might seem like a number of other chic, slightly tough bag collections, but this line actually has a special twist: each one is made from recycled leather jackets.We chatted with designer
Mary Meyer
about where she finds these secondhand jackets, which celebrties she'd love to see toting her purses, and which of the styles she carries all day long.
Why make bags out of recycled jackets?
I'm a huge believer in not killing animals, but while launching the brand I didn't want to make bags out of faux leather. Faux leather is good for the animals but bad for the environment since it'll sit in a landfill forever (not that in a million years you'd see a
Stella McCartney
handbag in a landfill).
Where do you find the old jackets?
I pick each jacket myself from large vintage distributors. We buy hundreds at a time. And soon might be launching a program where you can send your own jacket to be made into an NR style. This gives people the opportunity to have a jacket that was their mom's or dad's, one that really means something made into a Novella Royale...Stay tuned!

What celebrities have become fans? Anyone you'd love to see carrying a Novella Royale bag?
Right now,
Taylor Momsen
has been rocking the black Mister around
NYC
. I would love to see the Olsens,
Dree Hemingway
, Vanessa Traina,
Kate Lanphear
, and Michelle Obama carrying an NR.
How do the spring bags look? Any new twists like fun colors or embellishments?
For spring '10 we focused on carrying over our roots' design aesthetic which is very much inspired from the late 60's and early 70's. A couple of the new styles very much belong at a festival, dancing with a beer in hand...

What shape of bag do you carry during the day?
I carry our
Liv fringe bag
every day. It's large and can fit all my magazines and notebooks for traveling... I love it so.
Novella Royale is avaliable at Intermix, Wink, Shopbop.com, and Henri Bendel. Bags run $300-$700.