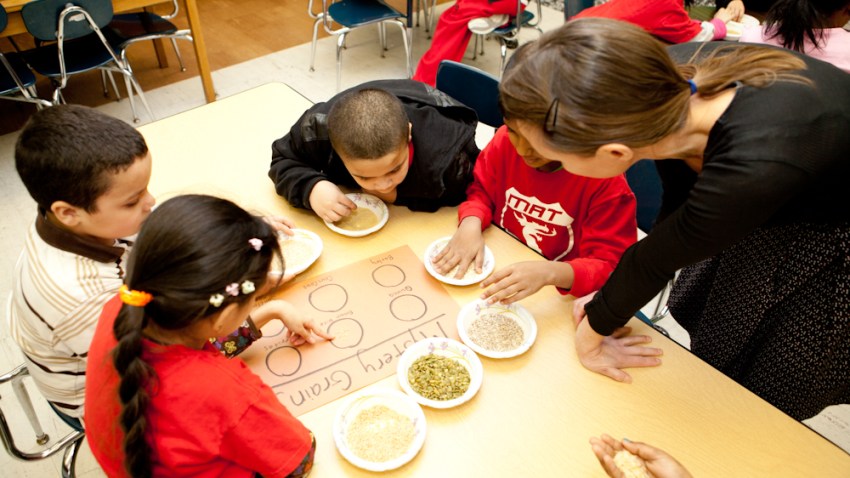 Before it was labeled a national epidemic, childhood obesity was already a troubling trend in New York City. Local initiatives were formed in response to the problem, and among them was Wellness in the Schools, a non-profit organization designed to teach public school kids healthy eating, environmental awareness and fitness as a way of life.

Six years later, WITS is in 19 schools across New York City, regularly conducting cooking classes, nutrition labs and fitness programs. The program has set up partnerships with culinary schools, high-profile chefs (like Bill Telepan, the executive chef for WITS), and athletic coaches.
According to WITS spokesperson Signe Greve-Isdahl, each WITS school has a "WITS in Residence," a culinary graduate hired to work alongside the school cafeteria staff, teaching them scratch-cooking and helping modify the school's menu to meet the WITS nutrition goals.
The WITS in Residence also leads WITS Labs -- nutrition workshops that focus on a food item (usually in-season produce of some kind), highlighting its nutritional and environmental value, and finding creative ways to prepare and enjoy it.
"The recipe will be served in the cafeteria at some point so the children will recognize it and make the link," said Greve-Isdahl. Ultimately, the hope is to instill an appreciation for wholesome food early in the kids' lives, and to arm them with the food smarts that will carry them into a healthy future.
The WITS Labs take place in 10 high-poverty elementary schools in Brooklyn, Bronx and Manhattan, said Greve-Isdahl. Natural foods supermarket Whole Foods provides the food supplies for the year and OXO the cooking equipment.
One recent Lab at P.S. 126 on Manhattan's Lower East Side focused on grains. Led by Emily Moak, a volunteer for WITS, the children created oatmeal together. Check out the photos in the attached gallery to see what happens at a WITS Lab.
Wellness in the Schools will be hosting their annual fundraiser on May 16 at 360 Tribeca Rooftop. To buy a ticket, or to learn about how to donate to the non-profit, click here.