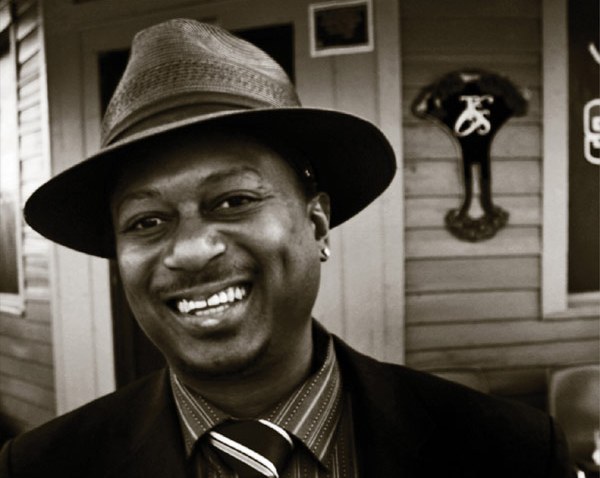 How many times have you seen an audience at the BAM opera house rise, exit to the aisle, and dance? Yeah, us neither.
But that happened plenty last weekend at the Red Hot & New Orleans fundraiser concerts, and while the bill was crowded – highlights included musical director Trombone Shorty with his band (and the night's house band) Orleans Avenue, and Dr. John – Kermit Ruffins had more than a little something to do with it, kicking off the show with a second-line parade through the audience that included Shorty and members of Ruffins' Rebirth Brass Band, which he founded two decades ago.
As he prepared to be Jimmy Fallon's guest tonight (and play with house band The Roots: "Oh, man, I'm excited about that!"), we chatted with this bandleader, trumpet player and singer, talking about playing himself on HBO's Tremé, his new album Happy Talk (Basin Street Records), and how much less insular New Orleans' music has become of late. Here's what we learned.
On picking up the trumpet
"My uncle, Percy Williams, brought his trumpet over to our house when I was a kid, and let us play with it. The smell of that brass was incredible. Then one day we came home and there were two trumpets on the davenport."
On the song that changed everything
"I heard Louis Armstrong for the first time when I was 19. I was at Mulate's ordering a po' boy, and 'When You're Smiling' came on the jukebox, and that was it. I couldn't believe the solo he took on that. I started listening to and watching all the old jazz I could get my hands on. Up until then, I'd wanted to be Michael Jackson."
On his first New York show
"It was with the Rebirth Brass Band, probably 22 years ago. Oh, man, what was the name of that club? Gone now. It was like Tramps, though. And that crowd knew what to do—that was a real dancing crowd."
Pocket square: Killer detail
"I started wearing suits seeing old clips of Cab Calloway and those cats looking so sharp. And then one of the musicians I play with, he said to me, 'That suit ain't nothing without a pocket square.' So now I always have one. And I keep the price tags on. See? This one was $65 at JoS. A. Bank."
On getting the BAM crowd to their feet
"They told us that, that it would be more of a listening crowd. That's okay, but that's not what we do. We get people up dancing. So that's what we did."
On what he might have done instead
"I'd be a chef. I've got the same kind of passion for food as I do for music. I cook barbecue for the crowd at most of our shows. And on those days, when I'm grilling for like 200 people, I get up early because I'm so excited."
And speaking of which: On Fort Greene's Smoke Joint
"That place is nice. We just went there and I got the smoked chicken. I wanted to go into the kitchen and get my hands in everything."
On what's under the hat
"I've got a 'fro. See?" [Pulls out his driver's license, whereupon we ask if he and the Roots' Questlove are going to have a 'fro-off on the Fallon set] "Maybe. Maybe. His is pretty crazy, though--I got to get to work. Got to get a pick like him."