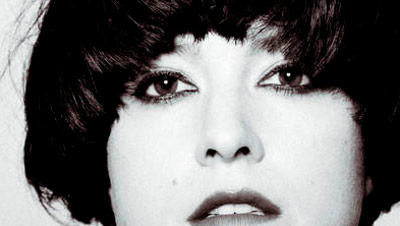 Keren Ann has spent a dozen years amassing a very dedicated fan base for five albums' worth of dark yet detached material. A descriptive that often gets quoted is "Norah Jones for Velvet Underground fans," but still, the half-Dutch, half-Israeli singer-songwriter has mostly stayed out of the spotlight.
With her sixth effort, 101 (Blue Note), garnering praise from all corners for its ambitious instrumentation and songcraft (it's been called "atmospheric" and "mesmerizing"), that just might change. A 16-date run of U.S. shows begins in New York City with a double-header: Tuesday at Bell House and Wednesday at Bowery Ballroom. Check out the video for the first single off 101, "My Name Is Trouble," below.
As she prepares to take the Bell House stage, Keren Ann answers our questionnaire, hinting at her self-professed attraction to "melancholy in every form of art," her still-fresh honeymoon phase with her Israeli husband of three years, and the nomadic life that shuttles her between Tel Aviv, Paris and NYC.
Name: Keren Ann Zeidel
Age: 37
Lives in: Paris
Occupation: Musician, Sound designer, Singer

First real job?
Math tutor

First record you ever bought?
Carole King's Tapestry

If you ever get arrested, it'll be for...
saying it out loud.

What time do you wake up?
When jet lagged in NY, 5 a.m.; when working on a project in the studio, 9 a.m.; on a tour bus: when it stops at the next destination.

What do you remember about your first NYC gig?
It was at Sidewalk Café in the East Village. I remember Dean and Britta sitting in the audience. They made my day.

Top three songs in your iPod rotation?
Ratatat, "Drugs"
Philip Glass, Epilogue From Akhnaten
Mary Jane Hooper, "I've Got Reasons"

Best show you've ever seen in NYC?
Casa (Ryuichi Sakamoto and Brazilian cellist Jacques Morelenbaum's tribute to Antonio Carlos Jobim) at Joe's Pub.

What do you splurge on?
Guitars, keyboards, compressors, pre-amps, handbags.

To when do you point your time machine?
Here and now.

Complete this sentence: In a previous life, I was a sailor.

Best meal you've ever had in NYC?
The one with the ceviche and the grilled corn.

First childhood memory?
Caesarea [in Israel, her birthplace]. The port.

What's your pre-show ritual?
My glass of wine during my makeup.

Do you Google yourself?
When I can take the pain, yes.

What's the most memorable thing you've ever read about yourself on the internet?
General comments about my different hairdos.

Most treasured possession?
My small Paris writing place.

What's your drink?
Château Olivier 2001 or Lagavulin 16 [single-malt whiskey].

What's your greatest skill in the kitchen?
Omelettes.

Your favorite thing about yourself?
My tattoo. [Ed's note: Take a peek at it here.]

Who are your heroes?
Alfred Hitchkock, Bob Dylan, Frederic Chopin, my father.

What scares you?
Numbness.

Best piece of advice you've ever received?
If you're not a part of the solution, you're a part of the problem.

What's the loftiest goal you've yet to accomplish?
Writing an opera.

Fill in the blank: I'll know I've really made it when...
we're home, happy, staring at each other.
Tweet your obit (140 characters or less):
K.A Zeidel. 101. Sailor. Believer. Eternal lover. Mother.