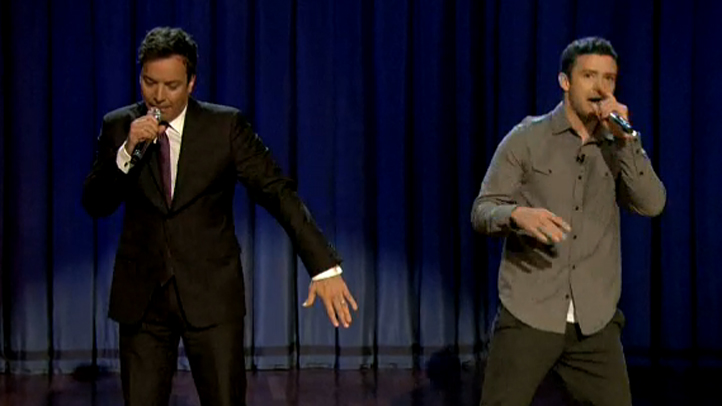 "Late Night With Jimmy Fallon" fans might have suspected they were in for a treat Tuesday night when Questlove tweeted after the show's taping that it was a "must-watch" ("TRUST," he wrote, "do NOT miss it"). Justin Timberlake was a slated guest, and the last time the entertainer appeared on the show, he and the host performed the hip-hop medley that instantly went viral.
Those familiar with the original "The History of Rap" set -- and with Fallon and Timberlake's previous duets -- probably guessed a similar performance was on tap, and when it finally hit the air, "The History of Rap 2" didn't disappoint.

The five-minute medley spanned an astonishingly diverse spectrum of rap from over the years, starting with the crowd-rousing exhortation to "Clap your hands, everybody" ("The Breaks," Kurtis Blow). House band The Roots transitioned seamlessly and jammed enthusiastically while Fallon and Timberlake rap, sang, and Auto-Tuned with carefree abandon. For all their goofy dance choreography, their synchronization and timing were hilariously precise; and with every robot, bounce and dougie, Fallon and Timberlake channeled the spirit of each song, from the aggressive "Push It" and the crazed "Insane in the Brain," to the joyful "Hey Ya!" and the grimey "A Milli."
In what's become a trademark of their duets, the self-parody and tongue-in-cheek were what ultimately sold the performance. When The Roots began to strike the telltale notes of the clubbanger "Blowin' Money Fast," Fallon automatically slipped into Rick Ross's signature growl, chanting heavily into his mic: "I think I'm Big Meech; Larry Hoover."
He only got as far as "Whipping work; Hallelujah," before Timberlake exasperatedly pulled Fallon back from the camera he was grilling: "Jimmy, stop," Timberlake reprimanded. "Why do you always do that?"
Fallon looked down in a show of embarrassment; then, without missing a beat, lifted his head right back up as Biz Markie's "Just a Friend" filled the air. "Have you ever met a girl that you tried to date?," he asked Timberlake earnestly.
"But a year to make love she wants you to wait?," Timberlake responded with appropriate dejection.
Turning dramatically to the audience, the two belted out the famously off-key lines: "You; you got what I ne-eed." Fallon and Timberlake bounded energetically into the crowd for a supremely entertaining singalong before capping off the medley right back where they started: "These are the breaks!"
These songs were featured in "The History of Rap 2"; watch the entire performance in the video above.
"The Breaks," Kurtis Blow
"Express Yourself," N.W.A.
"Bring the Noise," Public Enemy
"It Takes Two," Rob Base and DJ EZ Rocks
"Push It," Salt 'n Pepa
"Ice Ice Baby," Vanilla Ice
"The Choice is Yours," Black Sheep
"Insane in the Brain," Cypress Hill
"Let Me Clear My Throat," DJ Kool
"Up in Here," DMX
""Hot in Herre," Nelly
"In Da Club," 50 Cent
"Hey Ya!," Outkast
"A Milli," Lil Wayne
"All I Do is Win," DJ Khaled
"Teach Me How to Dougie," Cali Swag District
"Blowin' Money Fast," Rick Ross
"Just a Friend," Biz Markie