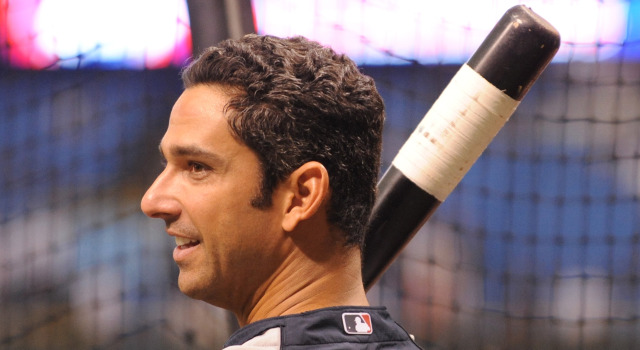 We know A-Rod likes to get in his turkey and sweet potato before a game and to serve up kale chips in the kitchen -- now we're getting an idea of what his teammate Jorge Posada eats to stay healthy.
In an interview with New York Magazine's Grub Street blog to promote his and wife Laura's new sangria (launched to raise money and awareness for Craniosynostosis), Posada maintains he consumes in moderation: "You gotta take care of yourself; you can't do anything in excess."
His wife says, "He's not a drinker. He's never even smoked a cigarette in his life. He never smoked pot, nothing like that. Never."
Laura, who Jorge said is the cook at home, says, "We try to be really healthy at home. I make him grilled chicken, or shrimp salad, or ceviche."
Jorge admits he indulges a little when Laura's away, though: "I love all Puerto Rican food. I love rice and beans. I like anything with steak, chicken, pork. But I like chocolate and potato chips, too. I eat that when my wife goes away and isn't looking."
And as far as their children go, Laura says she and Jorge take responsibility for their health. "I hate when people McDonald's for their kids' eating habits," she says. "It's your responsibility as a mom to make them eat healthy. My kids crave sushi, salad, fresh pasta, because we taught them healthy food is good food."
PREVIOUSLY: A-Rod Cooks Healthy in the Kitchen