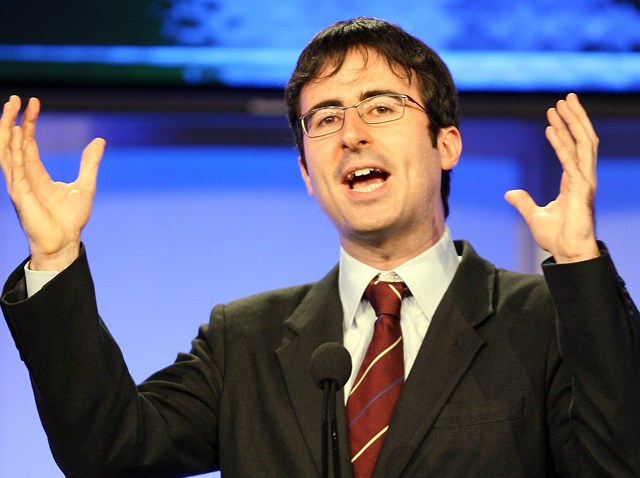 Corporate big wigs, educators and members of the New York media elite hit Pier 60 last night to fete (and fund) the charitable Posse Foundation -- but the evening's main draw was "The Daily Show" Emmy Award-winning comedian John Oliver, who had the awkward duty of roasting the program he truly admires.
"It's a weird thing with benefit gigs," the comic and fake journalist told Niteside last night. "Obviously, this is a good cause, and it's one that I personally feel connected to and passionate about, and yet you have this inclination to annoy people."
"It's a real battle between thinking, 'Just be nice' and the other voice in your head that's telling you to say the least appropriate thing possible."
The organization -- which awards four-year, full-tuition college and university scholarships to impoverished students -- isn't the ripest target for comedy, though Oliver didn't see that from stopping him.
The British standup did, after all, have a job to do.
"I actually went to school in quite a rough area, and when I got a place at Cambridge, I had a rough time in the first year," Oliver told Niteside during dinner. "I really didn't feel like I fit in at all, and so something like this would have been great for me."
Then he added with a laugh: "I loved the idea of it so much, so it's a pleasure to be here to make fun of it for 10 minutes."
As of late, big names have had the Posse's back, including President Obama, who recently donated a portion of his $1.4 million Nobel Prize purse to the initiative.
Last night, support came from the likes of Goldman Sachs, Comedy Central and the evening's emcee, Lesley Stahl of "60 Minutes," not to mention the hundreds of guests who had congregated for cocktails in the sunlit space (and on the pier's waterside terrace) before dinner.
With Posse's fate a foregone conclusion, only one question remained: Would Stahl -- the evening's true journalist -- escape unscathed?
"I like 60 minutes, but I imagine I'll make it seem like I don't," Oliver predicted.