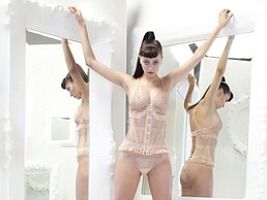 It's only been a little more than a month since Jean Paul Gaultier announced his departure from Hermes, but the French designer already has his hands full with other fashionable ventures. In addition to continuing to helm his own namesake label, Gaultier recently collaborated with the Italian brand La Perla on a seriously upscale lingerie collection scheduled to hit stores in November.

Despite never having designed an official lingerie line, Gaultier's iconic cone-shaped bra and corsets, which he produced for Madonna's Blond Ambition Tour, are some of the most memorable pieces of the French designer's 30-plus year career.

According to WWD, the collection -- called La Perla Designer Collection -- will feature 27 styles that are nearly all handmade, from a waist-cincher corset to, yes, a bra inspired by his now infamous cone-shaped version. The fact that the pieces are apparently made of the finest materials and crafted mostly by hand might explain the stratospheric prices -- starting at $618, according to WWD, and venturing up to more than $1,000 for a corset. Nonetheless, it seems the line has already found plenty of takers, including La Parla stores and Neiman Marcus.
Those excited by the collaboration will be even more excited to note that a beachwear capsule will also be popping up in March 2011.