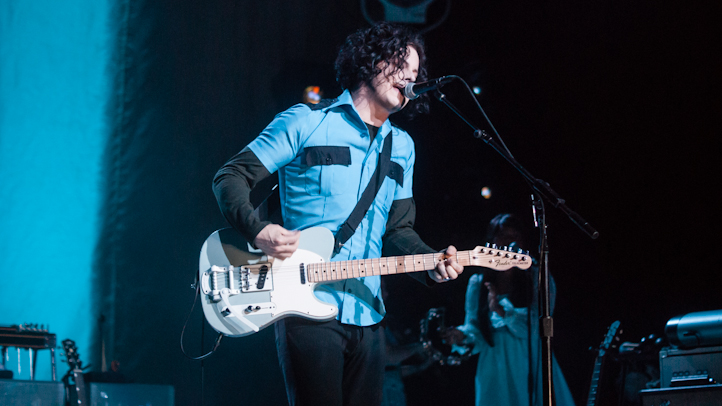 Jack White once said that back in The White Stripes days, you could tell if he was having a good time if he ended his set with a cover of the traditional American song "Boll Weevil." I once saw The White Stripes back to back (well, there was a Friday in between but let's not quibble) at two very different venues. One was an impersonal college basketball arena with a makeshift stage and passable acoustics. The other was a Hard Rock Live, which is like the Marriott of music venues. (They're all the same, but comfy for what they are.) You can probably guess which night got the "Boll Weevil" finish. I still have happy memories of Jack pleading "well Meg and I/we're just looking for a home."
On Saturday night, Jack White abruptly stopped his set a Radio City Music Hall after 45 minutes. This was a much less charming way of showing his displeasure. People waited 20 minutes for an encore until the house lights came out. People were upset. Conspiracy theories abounded about White's displeasure with the crowd's energy levels and the venue's sound.
He didn't mention the Saturday debacle once on stage the next night. In fact, he barely addressed the audience at all. Which is odd, because he's often quite chatty. Now, we can play armchair psychologist and wonder if White had something to prove on Sunday or if he had yet more aggression to release against the scalpers who ransacked his presale and NPR-loving fans who would not give it up properly, but dude was on fire. He pushed his backing band to play already aggressive solo cuts like "Sixteen Saltines" so fast that his voice could barely keep pace.
White has famously been playing with two separate bands on tour, a more MC5/Stooges-style all-male rock group called The Buzzards and a country-friendly all-female group called The Peacocks. We got the Peacocks last night, dressed in the country-goth opium den stylings that the boss prefers. Though his White Stripes catalog is a holy text to rock fans, White gleefully rearranged several of his most beloved songs last night, turning "Hotel Yorba" into a fiddle-led barnyard waltz and adding layers of distorted viola, keyboards and steel guitar on to "I'm Slowly Turning Into You," an already outraged song that turned in to something like a wall of disgust for five minutes last night.
"Dead Leaves and The Dirty Ground" began with White at an organ (clearly tuned to a setting called "spooky"), until halfway through he looked at his band and yelled "faster." He then grabbed a guitar and turned what was already one of his most Black Sabbath moments into what felt like a giant fist of anguish pounding the audience in to submission. This might have been done out of spite, but it was in arguably a more crowd-pleasing way for White to deal with his anger.