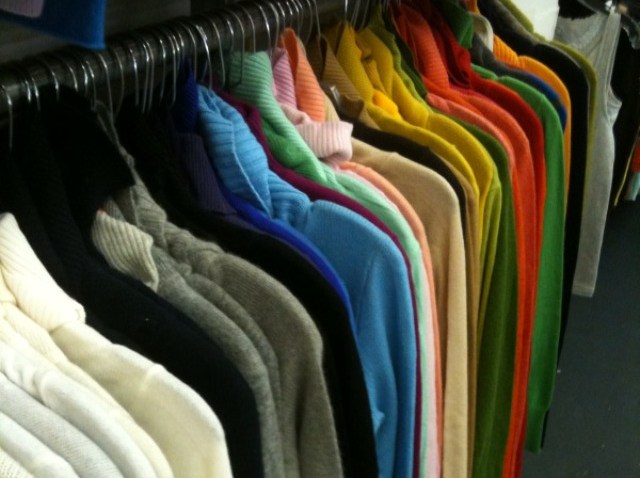 The line for the sample sale wasn't too bad this morning, though it's steadily growing. The stock, however, leaves a little to be desired: As promised, there's good cashmere and lots of shoes, though not too much more.
The crowd -- which was actually pretty male-heavy -- arrived at the sale and most were a bit disappointed by the limited selection, though the prices are quite good. The shoes were handily wrapped in little plastic bags and included the label's signature Marjorie ballet flats for $45, tall boots for $149, and Hunter rain boots for a mere $70 (for those of you still in need of a good pair, this is the sale for you). Cashmere sweaters are $75, while wool-blend sweaters are just $40 -- and do come in a kaleidoscope of J. Crew colors.
We did notice a good deal of wares with the word "sample" scrawled on it in black marker -- the indicator of a true sample sale -- as well as a good amount of damaged merchandise, so be careful before grabbing pieces willy-nilly and checking out.
J. Crew Sample Sale: November 3-6
261 West 36th Street, 2nd floor: 10AM - 7PM