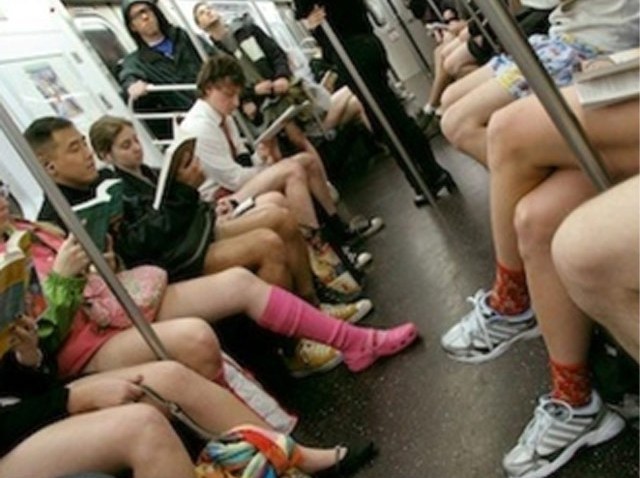 New York-based collective Improv Everywhere -- creators of "scenes of chaos and joy in public places" -- is holding its 9th Annual No-Pants Subway Ride on January 10. Last year, 23 other cities worldwide participated too; this year, that number ups to 44. That's nearly fifty cities on the planet where people will be going bottomless for the sheer fun of it.
In case you've never heard of the No-Pants Subway Ride, it's a very peaceful event where a bunch of people enter a train, pretend not to know each other, and at a designated time, all remove their pants, causing instant delight among all riders (and, in 2006, blustery befuddlement among the NYPD, who cited the merry pranksters for disturbing the peace). Previous No-Pants events have mostly taken place in Manhattan, but this year, things branch out to six neighborhood locations! Here are NYC's details from the I.E. people:
All are invited to participate in the 9th Annual No Pants Subway Ride. The event will take place at 3:00 PM on Sunday, January 10. Everything you need to know is in this post. Please read it carefully!
REQUIREMENTS FOR PARTICIPATION:
1) Willing to take pants off on subway
2) Able to keep a straight face about it
**THIS IS A PARTICIPATORY EVENT. DO NOT SHOW UP UNLESS YOU PLAN TO TAKE YOUR PANTS OFF.**
DETAILS
When: Sunday, January 10 at 3:00 PM, Sharp! (Over by around 5:30)
Where: Six meeting points spread out all over New York City. Details below.
Bring: A backpack and a metro card.
Wear: Normal winter clothes (hat, gloves, etc)
Facebook: You can RSVP to the Facebook Event
There are six meeting points this year. Take your pick.
Astoria: Meet at Hoyt Playground – Google Map
Downtown Brooklyn: Meet at Prospect Park – Google Map
Downtown Manhattan: Meet at Foley Square – Google Map
Queens: Meet at the Unisphere in Flushing Meadows Park – Google Map
Uptown Manhattan: Meet at the Great Hill in Central Park – Google Map
Williamsburg / Bushwick: Meet at Bushwick Park (AKA Maria Hernandez Park) – Google Map
Find lots more No-Pants info, including video of the 2009 event at ImprovEverywhere.com.
Copyright FREEL - NBC Local Media