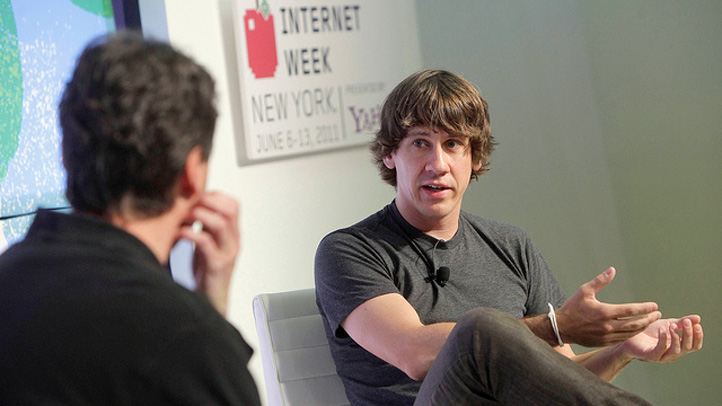 Internet Week NY began in 2008 in collaboration with the Mayor's Office of Media and Entertainment as a way to celebrate the digital community of New York. This year's week-long event hosts a diverse list of panelists, musicians and those helping to change the way we live, work and communicate on the internet.
Most events will be held at the Internet Week headquarters at 82 Mercer in SoHo, between Broome and Spring. For more information on all of the other great IWNY panels and parties, check out the official website.
Keynote Conversation with The New York Times' David Carr and Brian Stelter
Tuesday, May 15. 9:30 a.m - 10:30 a.m, IWNY HQ, 82 Mercer
Internet Week NY chairman David-Michel Davies has a conversation with David Carr and Brian Stelter, media reporters from The New York Times and stars of the documentary "Page One." They'll be taking questions after the discussion, so you can ask about the success of the Times' paywall or whether Twitter actually matters.
Viral Television
Tuesday, May 15, 11 a.m - 11:45 a.m. IWNY HQ, 82 Mercer
The comedy troupe Lonely Island changed our idea of a lazy Sunday forever when they released their SNL digital short in 2005. Since then, television shows have produced content with an eye at future virality. Pat Cassels from CollegeHumor, Billy Eichner from Funny or Die and Billy Eichner on the Street, comedian Seth Herzog and Adam Neuhaus from @radical.media will discuss the power of the web to spread the funny and the absurd.
The Art of Apps Gallery Opening
Monday, May 14, 10 a.m - 6 p.m, Soho Gallery for Digital Art, 138 Sullivan Street
You spend more time looking at apps on your phone than you do looking at old-school art, which is why the next frontier for art and design will be in our iPad and iPhone interfaces. Check out the premiere for this exhibit, which showcases the design from apps like Pinterest and Cameo.
Keynote Conversation with Billy Beane
Monday May 14, 9 a.m - 9:45 a.m, IWNY HQ, 82 Mercer
The man who took the Oakland Athletics from oblivion to perennial postseason contention by looking at statistics and numbers a little differently, Billy Beane will display his winning management style at this event. He'll draw parallels between baseball and business in a "Big Data, Big Solutions" panel.
Travelhack: How Not to Be a Tourist
Monday, May 14, 12 p.m, 82 Mercer
Learn how to utilize the world wide web as your travel through the world, with the best places to stay and things to do that won't make you look like a map-wielding, fanny pack-wearing tourist. The panel is hosted by the founders of Roomorama, a site that finds the best hotels, hostels and short-term apartment listings to stay in while traveling the planet.