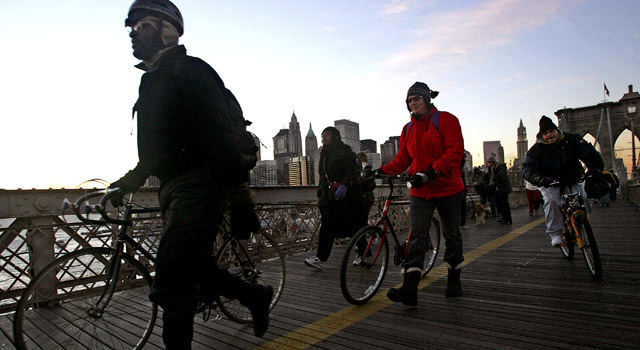 The fixed-gear bicycle has become one of the more ridiculously useless trappings of hipsterdom. If you think about it, you probably see someone walking alongside one of these bikes more often than you see someone actually riding them. And given the shear number of single-speed brakeless rides locked up to every stoop and No Parking sign between Bushwick and The Bowery, this is doubly amazing.

The principal reason is that a fixed gear with no way of stopping, also known as a track bike, is meant to be ridden on, well, a track -- not through rush hour traffic. Maybe riding over the Williamsburg Bridge is one thing, but once on either side, hello flat foot.
And why? Because a bike with no brakes cannot stop and this is dangerous. Sure it seems simple enough, but it's obviously not. And now there is a law on the books -- in Berlin, but still -- to prove it. And, as Bike Snob reports, brakeless Berliner biking enthusiasts are outraged. Brooklyn cyclists are probably safe -- as long as they sensibly continue to walk their death-traps.
Copyright FREEL - NBC Local Media