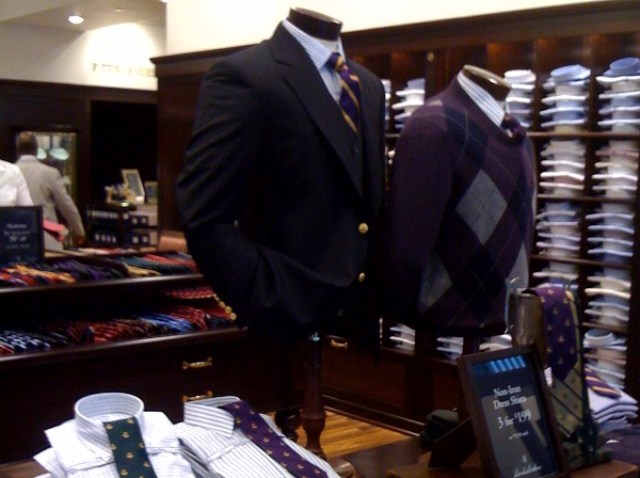 Exciting retail events rarely seem to happen in our 'hood, so when we spotted the glossy new Brooks Bros. on the corner, we were intrigued. Turns out it's a kind of mini-Brooks Brothers (or, as WWD referred to it, "Brooks Brothers Lite"), a 4,000-square foot store that the trade mag believes could herald the way for future little versions of the massive chain. As chairman and CEO of Brooks Brothers Claudio Del Vecchio told WWD, "It's more boutique-style merchandising."
It's true, the layout and vibe of the store lack the overwhelming department store vibe of its 5th Avenue counterpart, but this baby Brooks Brothers still has all the same pieces you'd look for -- the blazers and button-downs, the crisp office separates, even jewelry and handbags.
But "boutique" it ain't. Despite its diminutive size, there were five or six salespeople just wandering the floor looking to be helpful (and coming off overwhelming), and the store still feels decidedly mainstream and corporate. If this is Brooks Brothers' attempt at copying J. Crew's strategy with Madewell, they still have a way to go. That said, we'd definitely visit this location over the behemoth on 5th Avenue -- it's quieter and less intimidating, and frankly makes us wonder what "filler" pieces the're using to stock all the square footage at the bigger location.
Brooks Brothers, 51st Street and 6th Avenue