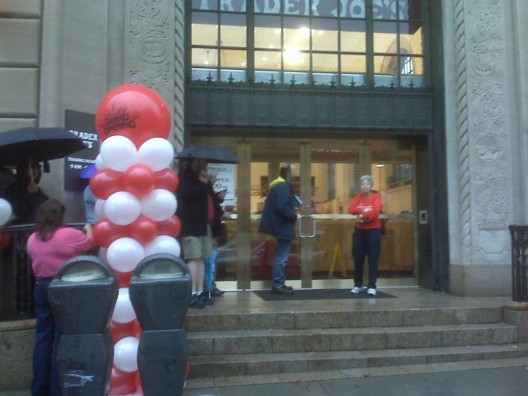 If you've strolled into the Village's old C.O. Bigelow drugstore in the last week, you may have noticed something very modern going on beneath the vintage chandeliers; they've just launched a new "Cancer Vixen" giftset with the tagline "formulated for fashionista activistas."

America's oldest apothecary isn't trying to cure cancer in their backroom, but instead have partnered up with breast cancer survivor and cartoonist Marisa Acocella Marchetto to promote her graphic novel Cancer Vixen with limited-edition kits featuring favorite Bigelow products and a percentage of purchases going to research. Even Rosie the Riveter and Che Guevara have been re-imagined as girly girl cartoons to promote the pack.
Also available for purchase, the Cancer Vixen tale itself explains what happens "... when a shoe-crazy, lipstick-obsessed, wine-swilling, pasta-slurping, fashion-fanatic, single-forever, about-to-get-married big-city girl cartoonist with a fabulous life finds a lump in her breast." In other words, it's like the Sex and the City version of a cancer survivor's tale.
· C.O. Bigelow's Cancer Vixen Products [Official Site]
For more stories from Racked, go to racked.com.
Copyright RACKN