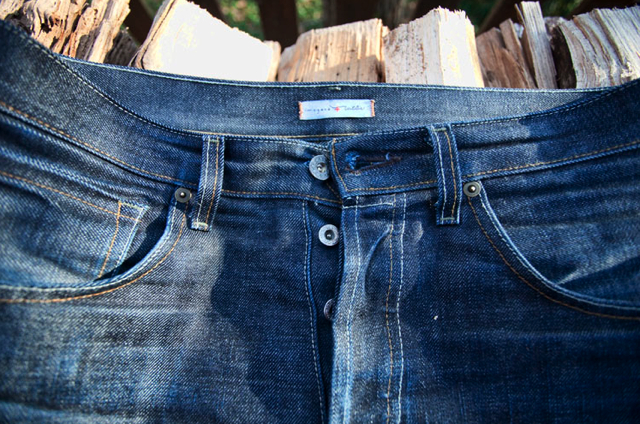 After a recent successful partnership with jewelry line Fenton/Fallon, J.Crew has announced yet another collaboration, this time for the guys.
Artisan denim label Imogene + Willie will offer up a slim, straight-leg, '40s inspired men's jean in two rinses: a dark rinse with mild abrasion ($375) and a light wash with a stronger abrasion ($425) at J.Crew's men's stores in TriBeCa, SoHo and on Madison Avenue (opening in late summer) starting at the end of August, WWD reports.
Four other items from the Nashville-based line will also be available: a sleeker style of a vintage U.S. Mail bag ($650), a leather tote ($800), a vintage T-shirt and a sweatshirt for women. The pieces will also be available on J.Crew's website (phew).
Imogene + WIllie is owned and run by husband and wife team Matt and Carrie Eddmenson who, prior to starting the line two years ago, developed new processes of denim finishing for the likes of Levi's, Polo Ralph Lauren's RRL, J Brand, and Rogan. With one email to J. Crew chief executive officer Millard "Mickey" Drexler, whom they had known from his days at Gap, they found themselves J.Crew's newest collaborators.
Frank Muytjens, vice president of men's design for J. Crew spoke to the products's appeal in an interview with WWD, saying, "They create their denim in a big metal tub in the backyard, and the leather guy down the street makes the bags. Every jean is a one-off and has Western influences, workwear influences. Everything is very crafty and very individual."
We're guessing that hard core denim fanatics who might not usually shop at J.Crew (though with Jenna's unstoppable styles lately, how can anyone not?) will be logging on to snag a pair of the jeans, even at such steep prices, because they're actually hard to come by. At the moment, Imogene + Willie jeans are sold only in the brand's '50s gas station store in Nashville and at Stag, a Western style boutique in Austin, Texas.

Imogene + WIllie's Nashville shop.