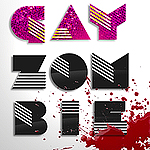 The problem with trends is you always have to be upping the ante.
Take zombies. They're everywhere. So when you've seen one pale, bloodied creature listing towards you, you've seen them all. Unless he's dressed like Ziggy Stardust-era David Bowie and covering AC/DC tunes, backed by a full zombie band.
So it goes with Gay Zombie: A Glam Rock Zombie Musical, on for one night only tonight at the Ace of Clubs Theater. It tells the story of Tom, who grows up feeling out of step with the other zombies. He flees the tiny world he knows hoping to "find life, love and brains in the big city," and you know what that means: Coming-of-age tale meets gay zombie love story!
The play is the brainchild of writer/performer Matthew Fletcher who you may remember as the Sabra Hummus guy on Youtube. Or maybe not.
Gay Zombie: A Glam Rock Zombie Musical, Ace of Clubs Theater, Wednesday 10/27 at 7PM; tickets are $13 (includes a cocktail!).