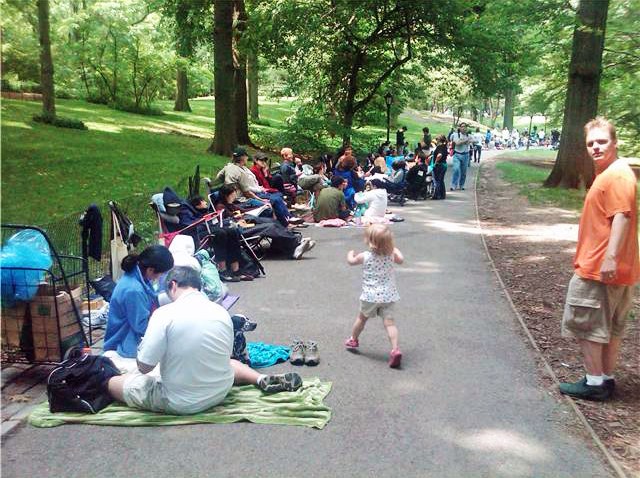 People are jogging, walking or simply wandering along all but one of the winding paths of Central Park today.

The exception is the winding trail leading away from the Delacorte Theater near 81st Street and Central Park West. There, people are camping out for a shot at seeing Al Pacino act, in person.

The price? Their time.

Tonight is the debut of Shakespeare's "The Merchant of Venice." Pacino plays Shylock. Maybe that's part of the draw today. Or maybe it's just the tradition.

For more than 50 years, the Public Theater has been drawing millions of theater fans to it's summer Shakespeare In The Park performances.

According to www.shakespeareinthepark.org, organizers hand out about 100,000 free tickets every Summer. Each performance seats more than 1,000 people. That might seem like a lot, but the competition is brutal.

Tickets are handed out at 1 p.m. sharp. Most of the people who've lined up today were here well before the Park opened at 6 a.m. One Pacino fan arrived at 6:45 a.m., waited patiently behind roughly 200 people, and did not get a ticket.

He was the last to get a voucher, which means he might get in to tonight's show if he shows up by 6:30 p.m. and is present when his name is called. The performance starts at 8 p.m. It's a long day. And there were hundreds and hundreds more people waiting behind him.

The smart waiters bring air mattresses, umbrellas, blankets, and well-stocked coolers. A woman with a guitar entertained her group. There were a few chess games going -- lots of iPods, cell phones, lap tops, novels and a smattering of iPads.

The less experienced (or maybe heartier) ticket hopefuls were few and far between.

Attempting to score free tickets to Shakepeare in the Park is probably something you'd want to research before you try it. Someone in line called it a "relaxing" day and said he wouldn't mind coming back if he had to. Considering the line, he might need to clear his schedule for the next few Saturdays.

Shakespeare In The Park 2010 ends August 1st. Both "The Winter's Tale" and "The Merchant of Venice" will be performed almost every night of the week at 8 p.m.