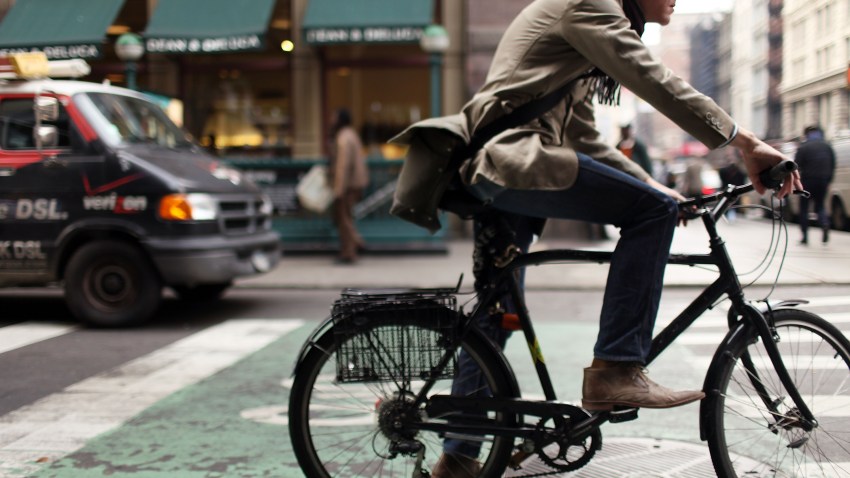 It's National Bike to Work Day tomorrow, and thousands of New Yorkers will be hopping on their bikes for their commute from 7 a.m. to 10 a.m.
If you're thinking about joining the cycling crowd, or mulling bike-commuting in general, here's some basic information from Bicycling Magazine's "Big Book of Bicycling," edited by Bicycling editor Emily Furia.

Will you participating in Bike to Work Day tomorrow?

What Everyone Should Know About Bike Commuting
Tip 1: Riding for transportation is real cycling
If you're looking to become a stronger cyclist or get more fit – and who isn't? – biking to work will add real miles to your training log, helping to build fitness and lose weight. And if your commute is long enough to serve as your training ride, you've just added more free hours to your day.
Tip 2: If your trip is less than 5 miles, riding trumps driving.
It could take you just as long to drive to your destination and find a parking spot as it does to ride.

Tip 3: "There's no shower at work" is no excuse
In a survey of hundreds of bike commuters in North America, Dave Glowacz, author of Urban Bikers' Tips and Tricks, found that 85 percent don't bother to shower after reaching their destination. Change your clothes, and keep a stash of baby wipes in your desk drawer for quick clean-ups.

Tip 4: Any bike can be a commuter bike
The best bike depends on the distance and terrain you cover, and whether or not you'll have to lock it outside. It could be the rusty mountain bike or cruiser in your garage, your regular road bike or a dedicated commuter bike.

Tip 5: Ride like you drive
Cyclists have the same rights and responsibilities as motorists, so follow all traffic laws, signal where you're going and ride predictably. Rural commutes aren't much different from recreational rides. In urban areas, traffic will be heavier, but also slower, so you may be able to take the whole lane.
Tip 6: It's not always fastest to ride fast
The need for sudden stops can hijack momentum. Commuting becomes almost a zen art, and a hell of a lot of fun, if you go with the flow of timed lights and traffic.

Tip 7: You don't have to go all the way
Bring a few changes of clothes to the office when you drive there on Monday morning. Commute back and forth by bike Monday evening through Friday morning. Drive home Friday after work. Or, drive partway (preferably beyond that dangerous stretch of highway), park your car and ride the remaining distance to work. You can also drive in and ride home one day, then ride in and drive home the next. Even commuting by bike just once a week helps keep the air – and you – healthier.
---
The "Big Book of Bicycling" is available for purchase on Amazon.com.
Emily Furia is a Senior Editor for Bicycling magazine, where she has worked for nearly 10 years. During that time, Furia has worked on more than 100 issues of Bicycling and has tested and reviewed an equal number of bikes, in virtually every category – road, mountain, commuter, cyclocross, track. As the main contributing editor to The Big Book of Bicycling, Furia is one of Bicycling's top experts on beginner, commuter, and women's content, as well as editing feature stories, contributing service pieces and reviewing bikes. She is a graduate of the College of William and Mary, where she was a 2-time All-American at the 1500m. Since college, Furia continues to regularly compete, racing year-round in half marathons and sprint and Olympic triathlons, usually placing in the top 3 in her age group. She's ridden on three continents, everywhere from the backcountry of British Columbia to the clogged streets of Kyoto, Japan. During her first six years at Bicycling, Furia was a regular bike commuter.