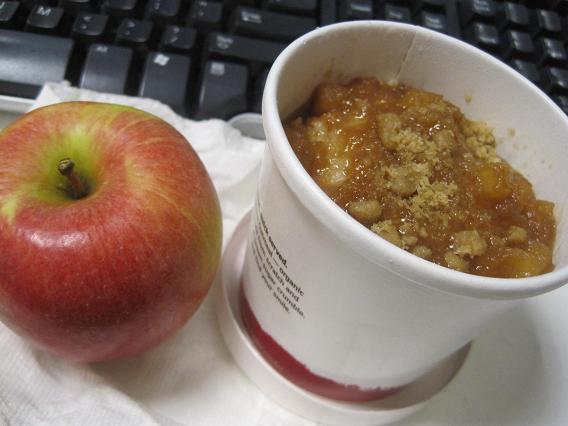 Eating healthfully under a time crunch is a challenge lots of New Yorkers face. Here's how Megan Irene Kretz, an active runner living and working in New York City, eats during the week under time and budget constraints.
How do you try to eat healthy on the go?
Like most busy New Yorkers, I'm rarely out of the office before 6 p.m. When you factor in a commute, gym visits and social activities, that doesn't leave much time for cooking. I love my busy lifestyle, but it's taken some time to figure out how to eat healthfully when I'm on the go.
Breakfast
For breakfast, I'll either grab something at my office cafeteria (a good deal if your workplace offers it) or get something from a nearby vendor. To maximize my dollar, I'm always on the lookout for special deals.Jamba Juice regularly offers its steel-cut oatmeal (
about 300 calories, plus fiber and protein
) for $1 to $2. If I'm really in a rush, I'll grab a bunch of bananas from a fruit cart and pair one with a granola bar.
Lunch
For lunch, I'll sometimes get a bowl of veggie-packed ramen from a nearby Korean restaurant or a big salad from Chopt (buy 9 and your 10th is free). Since I never know what my evening will bring, I try to get my fill of produce early in the day.
Snack
When it's time for my afternoon snack, I'll head to Starbucks for my go-to drink, a caffe misto (which is cheaper and has fewer calories than a latte), or to Duane Reade for some of their storebrand chocolate granola & nut. For something with "chocolate" in the name, it's surprisingly nutritious: 110 calories, 4.5 grams of fat, 3 grams of protein, and 6 grams of fiber per third-cup serving. Many Duane Reade locations also has a selection of milk, cereal, nuts, and dried fruit -- I keep a stash in my desk drawer for hunger emergencies.
Dinner
If I can, I try to cook something at home for dinner. I'm a member of the
West Harlem
CSA (community-supported agriculture), so from June through October, I receive bi-weekly shipments of organic produce straight from a New York farmer. At the start of each season, CSA members pay the farmer for a share of his crops. Since there's no middle man, it's usually much cheaper than buying produce from the grocery store or the farmer's market.
I usually don't know what I'm getting until the day of pick-up, but whatever I receive usually dictates my meal plan for the week. The most fragile produce (salad greens, tomatoes, etc) needs to be used first while the hardier veggies (onions, potatoes, squash) can be stored for later. Sometimes I'll have a meal planned, but a work event or happy hour will require me to make a change. On nights when happy hour and wine take precedence, I'm extra glad I had a veggie-packed salad for lunch!
---
I'm definitely not a perfect eater (I had cupcakes and champagne the night before a recent half-marathon, oops), but I try to strike a balance between my work, athletic, and social committments. I won't pass up a celebratory sweet or a slice of New York pizza -- but I will balance it out with a bowl of oatmeal and run in
Central Park
.
Megan Kretz, is a competitive runner and founder of the blog
The Runner's Kitchen
. When she's not pounding the pavement with the
Central Park Track Club
, Megan enjoys baking,
tweeting
, and exploring her Harlem neighborhood.