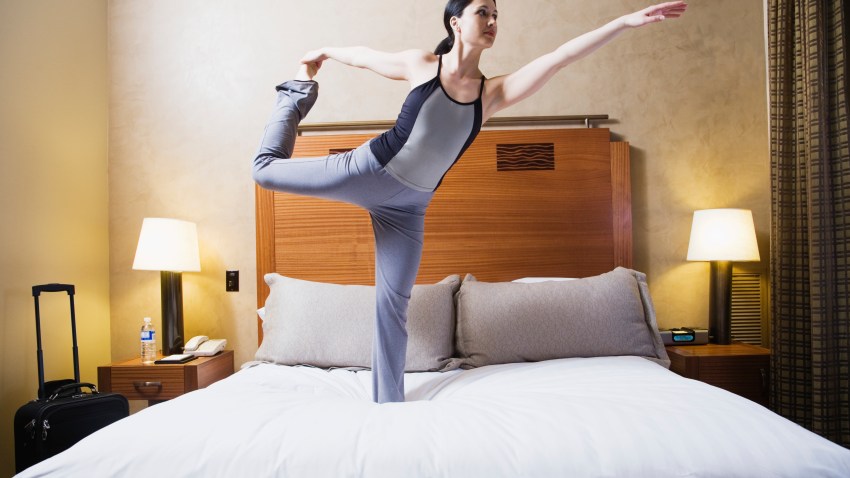 Is a 20-minute workout really effective?
If it's intense and nonstop, and especially if it's the only option you've got as a frequent traveler, then yes.
The New York Times hails the modern-day version of calisthenics as the new hotel workout of choice. It profiles as an example the routine of public relations executive Pierre Rougier: "The fast-paced, minimal-rest, pant-provoking circuit of push-ups and jump jacks and squat thrusts has a very up-to-date feel to it, something the trend-conscious 48-year-old has noticed," the Times says.
Rougier's trainer, Rob Morea, trains clients who travel frequently for business, and tells the Times that the workouts he designs for them are often met with comparisons to workouts du jour P90X and Insanity.
Exercise scientist Jeffrey Potteiger tells the Times, "If I was away on business and I had limited time, I think that would be an excellent workout to do. You're going to challenge the major muscle groups, maintain fitness, and because you're doing the exercises in rapid succession, you're going to raise your heart rate and get some of the cardiovascular benefits. Plus, you don't need a lot of space and time."
Still, the workouts don't increase strength and they shouldn't be considered a replacement for one's regular cardiovascular routine. So business travelers who prefer to go for a five-mile run or a brisk two- or three-mile walk should do so, says the Times.
How do you like to work out when you're traveling?