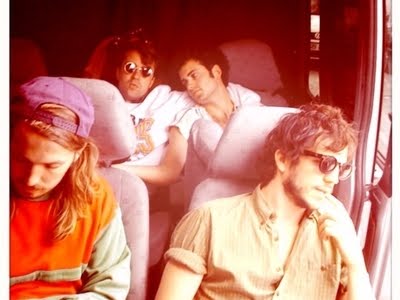 NYC, meet Brit band the Vaccines.
Led by Freddie Cowan (sib to Tom Cowan of The Horrors), and Justin Hayward-Young (who's ditched his folkie alter ego Jay Jay Pistolet), the outfit makes guitar-driven rock with a surf edge that feels like it could have come out of any of the last 30 years (which is a good thing). Sort of Ramones meets Arctic Monkeys with a soupçon of Pixies and even a little Beach Boys—the kind of music that, when experienced live, makes your hair get all sticky from head-bopping sweat you didn't even know you were generating.
We haven't seen the British—press and public alike—fawn over an up-and-comer on this level since the Great Amy Winehouse Incident of 2006. But this Guardian article points out that when the foursome played their first (!) London gig six weeks ago, "Outside were 200 people who'd been unable to get in, including some of the band's own mates and Nick Hodgson of the Kaiser Chiefs."
Because Brooklyn Vegan just joined in the praise party, we'd recommend you get yourself some tickets to their Bowery Ballroom show on January 20, stat, lest you be wandering around outside like those poor 200 turnaways. There's also a January 22 gig planned at Williamsburg's Glasslands, but no advance tickets are available for that yet.
To get all cozy with your new favorite band, download these two MP3s, first single Wreckin' Bar (Ra Ra Ra)—which clocks in at a ballsy 84 seconds—and Blow It Up.
Wreckin' Bar (Ra Ra Ra) by The Vaccines
The Vaccines at Bowery Ballroom, 6 Delancey Street; 7:30PM, January 20, 2011 – Tickets $13 advance / $15 day of show; available here.
The Vaccines at Glasslands Gallery, 289 Kent Avenue, Williamsburg, Brooklyn; January 22, 2011, time TBD. No ticketing link or price released yet, though we've rarely seen amounts top $10 at Glasslands shows.
What I'm listening to: Complainte de la Butte – Rufus Wainwright