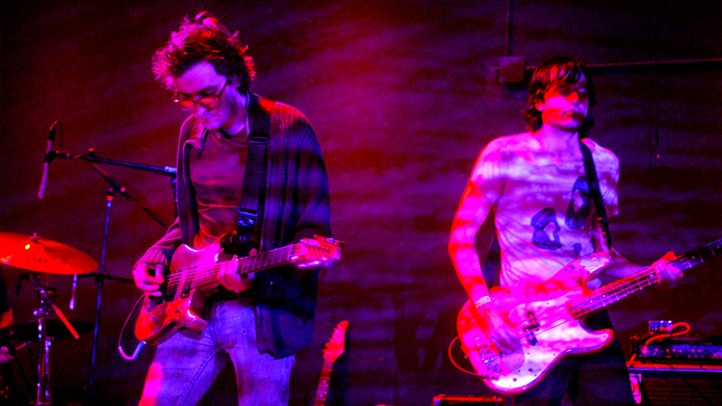 This week, Manhattan rockers Hooray for Earth released their first album with new label Dovecote, True Loves. The culmination of a long and unlikely journey, the album is a bombastic coming-out party: colossal hooks, high-volume bass and booming, kick drum-heavy percussion. Along with Cults' new self-titled album, True Loves is among the year's most exciting debuts from a New York band.
Currently on tour with Australian indie pop outfit Architecture in Helsinki, Hooray for Earth will hit New York City on June 16 for a show at Webster Hall.
Nonstop Sound caught up with frontman Noel Heroux between tour stops in Seattle and Minneapolis to talk about Enya, his prodigious DJ talents, and covering Kanye West.
Congrats on the release of True Loves. The album's already been positively received in the press and there's quite a bit of hype surrounding the record — is this kind of publicity something you ever expected for Hooray for Earth?
Noel Heroux: "No. When I first started taking Hooray for Earth seriously in 2008, I started recording with my buddy Josh, who co-produced the EP we did last year [Momo], and we were really fortunate because eMusic decided to release the EP — we were planning on just making a few copies ourselves. After a few months of good response, we got picked up by the label [Dovecote] we're now working with. I was like ... maybe we should make a whole record."
You guys are often compared to MGMT and especially Yeasayer. Are those bands that you guys listen to? Or is this just the kind of thing where you've got similar sonic palettes and the music ends up having certain things in common?
NH: "Obviously, I've heard MGMT, because who hasn't, and I like what they do, but it's not something I was aware of at all. True Loves has some poppy songs, and people maybe catch some sonic similarities, but this album was pretty much a product of me locking myself in a room and letting it fly. Honestly, I view it as a compliment because those bands have done very well, but that's not where we're coming from."
Anyone in particular you might cite as particularly formative?
NH: "One of my favorite things to listen to when I was in middle school was Enya, and people think that I'm joking when I say that — I'm totally not joking. Everyone knows they love Enya, but nobody wants to say it. And when I was growing up, I listened to a lot of the '80s pop music that my parents were listening to."
Hooray for Earth is often described as '80s influenced, but I feel like every time I turn around, someone's describing a new band that way.
NH: "People always say it, because the same instruments pop up again and again. There's actually barely any synth on our record — there's some on 'Sails,' and 'Same' is built on a Roland Juno-106 synth — but when people hear that synth, they recognize it from whatever '80s song they first heard it on."
That's somewhat surprising, because it certainly sounds like there's synth on a bunch of other tracks as well. What other equipment and processing are you guys using when you record?
NH: "We recorded a lot of full tracks that I chopped up later — we recorded these drums on a roof, and I chopped those up a bunch and that gives it a sort of electronic feel. I'm a huge guitar nerd, and a lot of the sounds are just really down-tuned or pitch-shifted guitars. I've also got a chorus pedal that I fell in love with."
Anything you want to experiment with musically that you didn't get to on True Loves?
NH: "I didn't really get a chance to experiment with big string arrangements. And I definitely want to put more guitars like, right in people's faces next time."
You're also scheduled for a DJ set (on June 23 at Coco66) which I didn't realize was part of your repertoire.
NH: "Yeah, deejaying for me is just me playing songs on my computer. At this juncture, I just throw up a million QuickTime windows and try to time them appropriately. I wouldn't ever call myself a DJ. But I do love to play music loud at a club."
You guys did a
cover of "All of the Lights"
on Billboard's Mashup Monday, which is totally out of the blue given your aesthetic. How did you end up getting to do something like that?
NH: "Billboard invited us to do Mashup Monday, and one of my friends was like, 'You guys need to do a Kanye song.' So we took his advice — I wanted to do the Bon Iver song ['Lost in the World'], and we had started rehearsing that, but we heard from Billboard that they wanted us to do 'All of the Lights' since it was a single."
You guys are playing Webster Hall on June 16.
NH: "I can't wait to come back to New York for that show. It's always great to come home. Two years ago, I saw a band play there and I thought, 'Man, my band's never gonna play there.' When they told us we were going to Webster Hall on this tour, I lost it."
Had any bizarre experiences that you'd care to share?
NH: "This one time, I couldn't dry my clothes, so we drove from Seattle to Minneapolis with my wet clothes hanging out of the van."
Aside from Hooray for Earth, who's your favorite New York City band right now?
NH:
"Zambri
. I'm on the Zambri team. They're gonna be putting out a record either this year or early next year, and they're stuff is totally bonkers. So check them out."
You tweeted that you were listening to the new Coldplay single ("Every Teardrop is a Waterfall") recently. What'd you think?
NH: "Someone tweeted at us saying that the new Coldplay song sounded like Hooray for Earth. That's not something that I would expect to hear. And the single wasn't too bad."