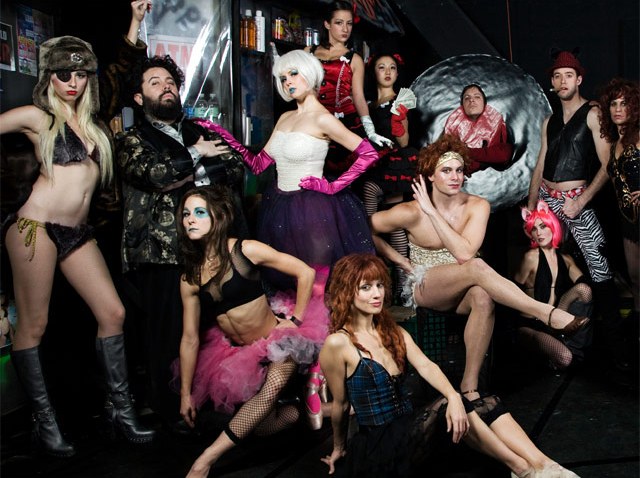 You know a work of art is timeless and iconic when everybody and their mother riffs on it. Case in point: Tchaikovsky's "Nutcracker" ballet, which has been rebooted in hundreds of iterations, from Duke Ellington and Billy Strayhorn giving it a little uptown swing in 1960's "Harlem Nutcracker" to the seminal 1988 animated television special "Care Bears: The Nutcracker". (What, you haven't seen it?) For choreographer Angela Harriell, what was missing these days was some good old-fashioned sleaze and grit. What else are the holidays about?
From the PR:
Nutcracker: Rated R cracks open the heart of the classic children's ballet to uncover drugs, sex, family secrets and all the other delights that make the Holidays so special. Little ballerina Clara is now a rebellious teen. Her disdain for her bourgeois family is challenged when her uncle Drosselmeyer takes her back in time to early 1980s New York. There, she discovers the seamy underground club scene and her family's untold history. Echoes of the original Tchaikovsky score mix with contemporary, unexpected beats to complement a range of movement from ballet to breakdance and burlesque. Ms. Harriell's interpretation is a dark, witty and satirical homage to (and cautionary tale about) the excesses of nightlife.
We're also told to look for a ribbon dance by Katrin "Lucy" Hoffmann of the 1996 German Olympic Rhythm Gymnastics Team!
Details
David F. Slone, Esq., The Love Show and Theater for the New City present Angela Harriell's "Nutcracker: Rated R", a Full Length Contemporary Ballet
December 17-31, 2009
Theater for the New City, 155 1st Avenue; 212-254-1109
Pricing varies; find info and tickets at theaterforthenewcity.net
Copyright FREEL - NBC Local Media